How to showcase your solar panel system to homebuyers
Many people consider solar panels and batteries a welcome addition to their home, generating clean, free electricity that lowers bills and provides backup power. But when it comes time to sell your home, prospective buyers may have questions, especially if they have no experience with solar.
With the right preparation, however, you can showcase your solar energy system as the asset it is.
Solar can help you sell your home for more money
Solar panels can increase the value of your property by as much as 4.1%, or $9,274. Studies show that homebuyers view solar much like other home upgrades, such as a renovated kitchen, so they are willing to pay more for it — as much as $15,000 more. Furthermore, evidence suggests that homes with solar sell faster than those without.
As solar becomes more popular, properties with existing solar energy systems are likely to become more popular, too. One survey found that 48% of homeowners without solar plan on having solar installed in the future. In a separate survey, half of respondents would pay up to 10% more for a solar-equipped house. Homes with solar panels should continue to command higher sales prices than those without, especially if those homes include a battery to fully maximize solar's financial benefits.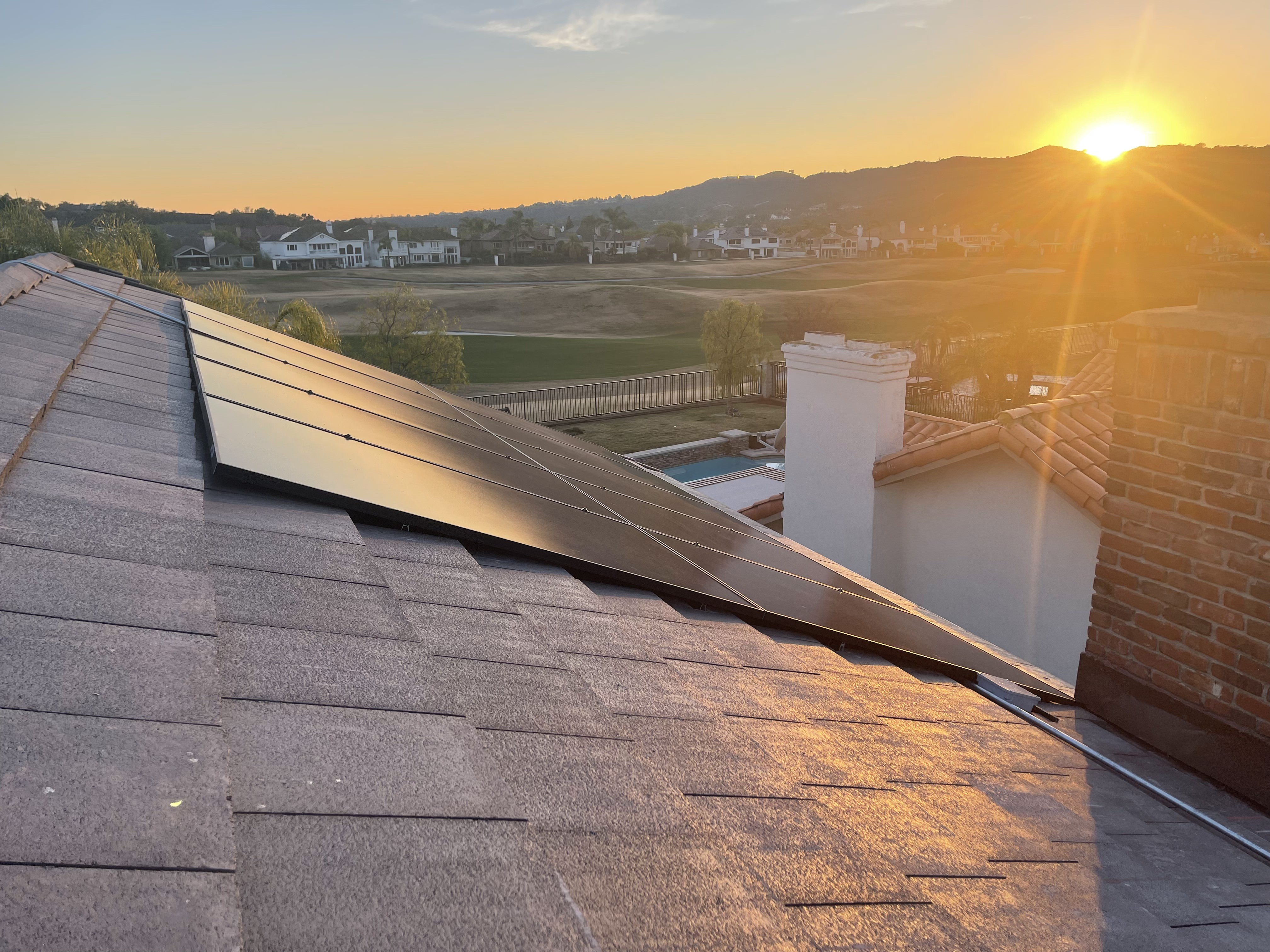 Photo courtesy of Orange County Solar
What are homebuyers' concerns when looking at a house with solar?
Even if they know the benefits of solar, potential homebuyers may have questions about what owning a solar system involves. It's good to prepare for questions about the following:
Maintenance: Prospective homebuyers will likely have many questions around the maintenance of solar panels. Do they need regular cleaning? How often do they need to be checked by an installer? What happens if they break and need replacing? Is it expensive to keep them running?

Insurance and taxes: Solar is a big investment. The average system costs $16,000. It's not surprising that prospective homebuyers may wonder if having solar panels on the property will increase home insurance premiums and property tax.

Appearance: Some homebuyers may be concerned about the appearance of solar panels, particularly if they plan on selling the property again in the future.
How to answer homebuyer questions and showcase your system's value
Many of the concerns above can easily be addressed at the beginning of the sales process. Here are five benefits to emphasize so you can give homebuyers peace of mind:
1. Solar is low maintenance
Solar panels are designed to be outside and to last for at least 25 years with minimal maintenance. All you really need to do is keep an eye on the panels' power output to ensure the system is working optimally and occasionally hose the panels down to remove debris such as fallen leaves. When prospective homebuyers visit your property, share this information with them and show them how easy it is to monitor the performance of the panels remotely.
2. Warranties cover costs
Occasionally a panel may get damaged or degrade faster than it should. Preempt these questions by double-checking your warranties. Many manufacturers provide at least a 10-year product warranty that includes replacing a panel if it fails. Panasonic's product warranty covers panels for as long as 25 years. Performance warranties should guarantee at least 80% of the original power output by the end of the warranty term.

3. Solar saves money
Lower energy bills are one of the most attractive benefits of solar. If you combine solar with battery storage, your potential savings are even greater. Share your bills with potential buyers to demonstrate the savings your system provides. If you have a battery, explain how storage allows you to avoid higher electricity prices or sell your excess power back to the grid when it's most beneficial.
4. Solar can make money
Provide an overview of any local incentive programs you're part of and how they work. For example, if you're signed up to net metering or a solar renewable energy certificate (SREC) program, explain how it works and the savings it generates for you.
5. Solar can raise your resale value
In most cases, solar increases home prices without increasing property taxes or insurance premiums. If homebuyers are concerned about taxes and insurance, be transparent about what you pay and whether solar has affected these payments.
Because homebuyers will likely have lots of questions for real estate agents before they even view your property, it's worth listing with an agent who has experience selling homes with solar. Look for agents with the National Association of Realtors GREEN designation, which signals existing knowledge of solar and energy efficiency. They can help you demonstrate all the benefits your system offers.
It's also a good idea to have all your documentation, such as system specifications and warranties, close at hand to quickly answer questions as they arise.
Whether you're looking to sell your home or you plan to stay for many years, going solar can help increase your home's value. Panasonic has all the resources and tools to help you take the first steps. Learn more and find installers in your area.