Does home insurance cover solar panels?
If your solar panels get damaged, will your homeowner's insurance pay to fix them? The article below offers information on what to look for in a homeowners insurance policy to ensure your panels are protected. Selecting solar panels with an excellent warranty will provide additional protection.
Solar energy is good for the planet and it can be good for a homeowner's wallet over the long run, but it has a steep upfront cost. The average residential solar panel system costs between $15,000 and $25,000, according to the Center for Sustainable Energy. When someone is making that kind of an investment, they want to know it's protected.
Fortunately, homeowners insurance usually takes care of it. But there are some caveats solar panel owners need to be aware of.
Homeowners insurance generally covers solar panels
A typical homeowners insurance policy covers solar panels against most perils, but the level of coverage depends in part on where the panels are located. Panels mounted to the home's roof are typically protected under its dwelling coverage. This means the insurer will pay whatever is needed, up to the full value of the policy, to repair or replace the solar panels if they're damaged due to a covered claim.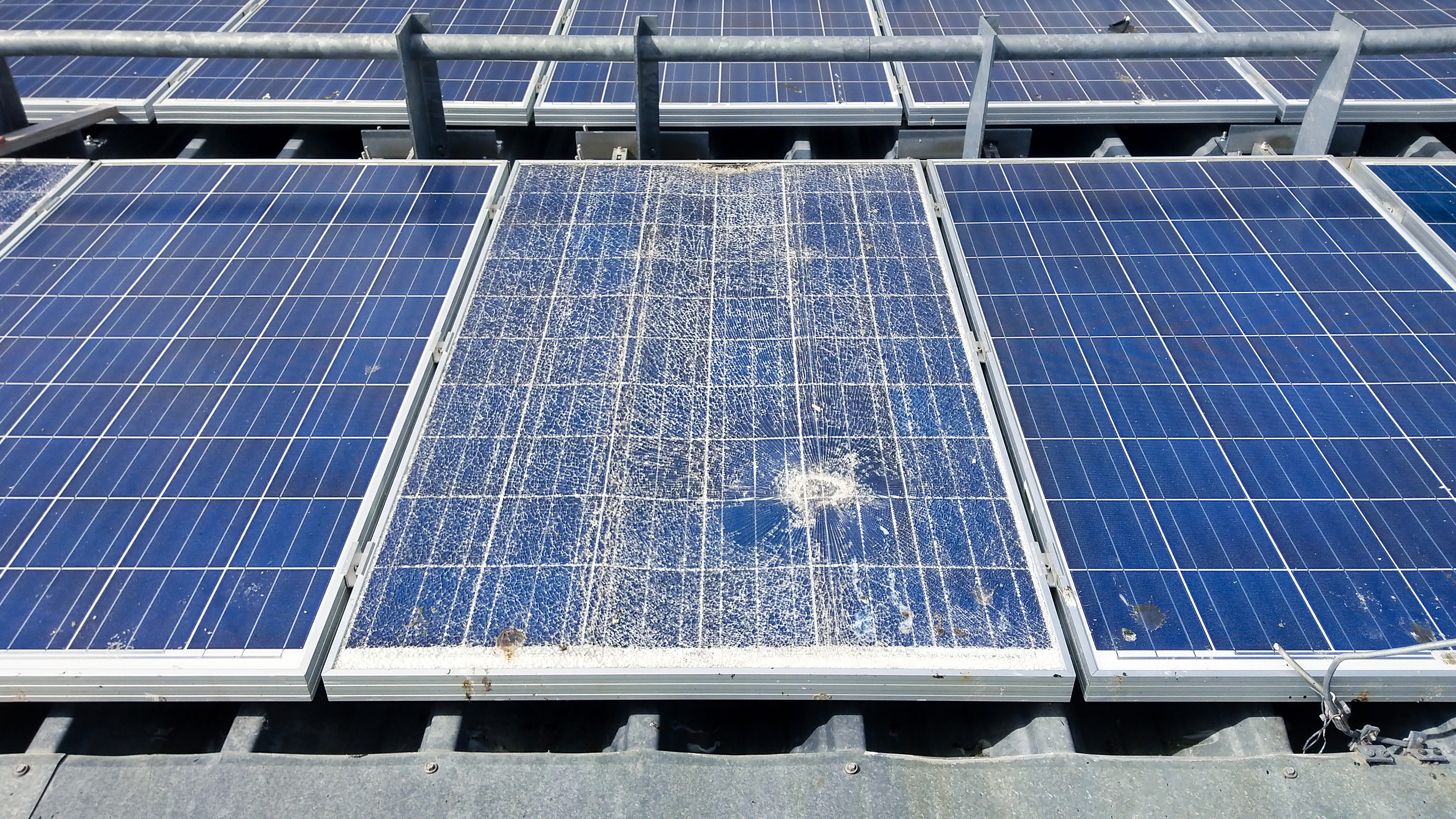 Ground-mounted solar panels or solar panels attached to a garage are typically covered under a policy's other structures coverage. These structures usually have a claim limit, which determines how much the insurance company will pay for repairs to these items. Often, it's equal to about 10% of the total policy value. So if the home is insured for $200,000, a detached garage with solar panels would be insured for $20,000.
Watch out for wind and hail exclusions
The biggest snag homeowners might run into when seeking coverage for solar panels is wind and hail exclusions. Not all policies have these, and they're more common in areas that are prone to severe windstorms and hail damage.
Some companies may require homeowners to pay a separate wind and hail deductible, which is often higher than the standard deductible, before paying for these claims. Other companies refuse to cover them at all. However, they will pay for damages due to other covered claims, like a house fire.
Often, it's possible to purchase a home insurance endorsement or a separate wind and hail policy if a typical home insurance policy doesn't cover this. Homeowners who aren't familiar with their policy's limitations should read its terms carefully or reach out to the insurer with questions.

Think about upping coverage limits
Homeowners should check to see whether their current policy limits are high enough to fund a full rebuild of the home and solar panels in case they experience a total loss. Adding $25,000 of solar panels to a home means the homeowner may want to increase their policy's limit by a similar amount. An insurance agent may be able to help a homeowner decide how much to raise their limits if need be.
Homeowners who decide to raise their policy limits should be prepared to pay a higher monthly premium. If this puts the policy out of their reach, they may want to compare quotes from some other home insurance companies to see if they can find a better deal elsewhere.
This article was written by Kailey Hagen from The Motley Fool and was legally licensed through the Industry Dive Content Marketplace. Please direct all licensing questions to [email protected].