10 Key Energy Definitions Every Homeowner Should Know
Investing in your home energy system can feel like a complicated process. Beyond the range of financial options and technologies available to you, the energy definitions themselves can be really unclear and confusing. Here's a look at some of the key energy terms you're likely to hear, from "what is a kilowatt-hour" to "what is AC power" — and what they actually mean.
Kilowatt-hour (kWh)
When it comes to energy definitions, this is a key term to remember. A kilowatt is the power needed to make a device work and a kilowatt-hour is the amount of energy that has actually been used over a period of time. You may have seen kWh referenced on your utility bills. The number of kilowatt-hours of electricity you use in a year will give you an indication of the number of solar panels you may need to install to cover your usage.
Rated capacity
This is sometimes called the rated power output and is expressed in a unit of watts (w). It refers to the power generated by a single solar panel under ideal sunlight and operating conditions. In reality, the output will fluctuate through the day according to the available sunlight. You can use the power output of a panel to decide how many you need. An average US home needs about 28 to 34 panels.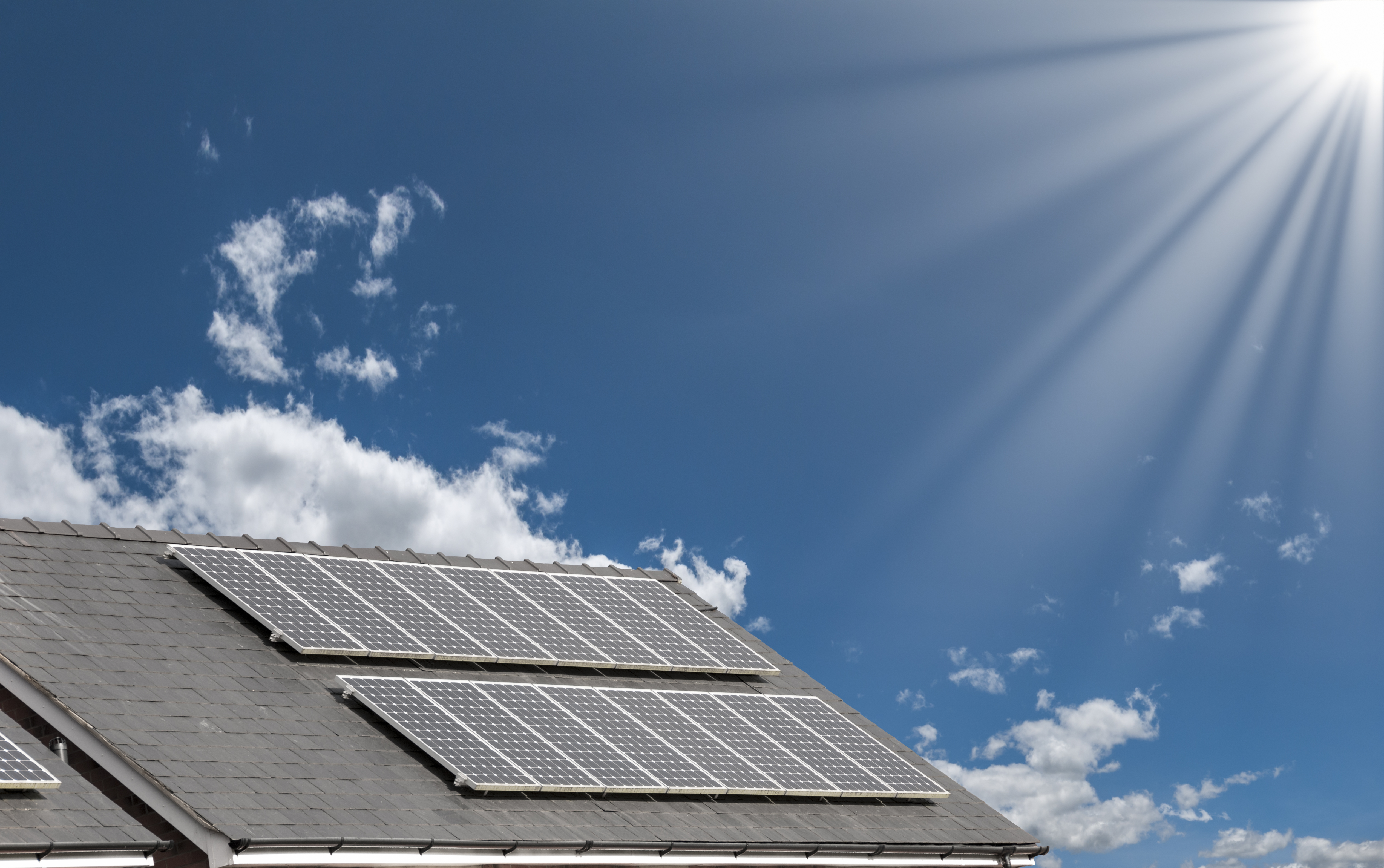 Temperature coefficient
Like many electronic devices, the performance of solar panels declines as they get hot. This means that at warmer temperatures, your panels will produce less power and this loss is known as the temperature coefficient. The temperature coefficient varies between manufacturers and models and is expressed as a percentage per degree celsius (%/c).
Most panels have a temperature coefficient between -0.3%/c and -0.5%/c, with -0.3% being the most efficient. Cheap panels with high-temperature coefficients are usually more expensive to operate in the long run.
AC Power
AC or 'Alternating Current' is a type of electrical current that can travel long distances without losing much power. The grid and most of your home appliances run on AC power.
DC Power
DC power or 'Direct Current' is a type of electrical current that cannot travel as far as AC but is much easier to store. Solar panels produce DC power and that's also how most batteries store it.
This means that the electricity from your solar panels or batteries needs to be converted into AC power before you can use it in your home. To do this you can choose either an AC or a DC-coupled battery. If you don't have solar panels yet, DC-coupled batteries are the best option as they're more efficient.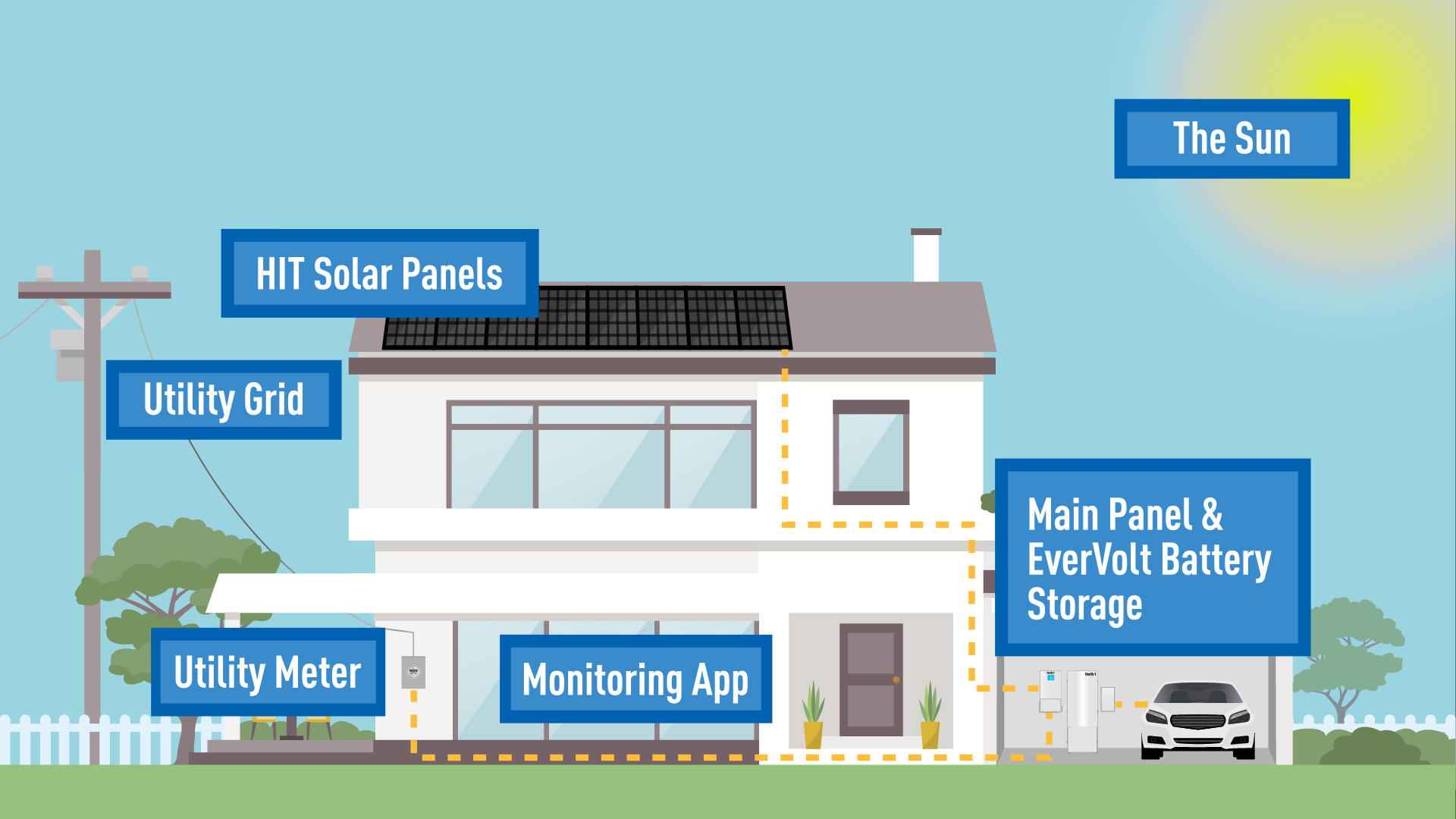 Inverters
Inverters ensure that the electricity your solar panels produce can be used in your home, by converting the DC power from your panels into AC power. They're often sold separately from solar panels but increasingly manufacturers are selling them as an integrated, single product. Panasonic has launched its own integrated inverter module.
Module efficiency
The module efficiency refers to how much of the sun's energy a single solar panel can turn into electricity. The average efficiency of solar panels is between 17 and 19%. Factors that can impact efficiency include quality of raw materials used in manufacturing, the location on your roof, and temperature.
Photovoltaic (PV)
A type of device that produces electricity from the sun. Solar panels are photovoltaic devices that are made up of multiple photovoltaic cells, or solar cells, that absorb sunlight and turn it into electricity. These photovoltaic cells are organized into a large frame that is known as the solar panel.

Battery storage
Battery storage refers to technology that enables you to store the power generated from your solar panels. A solar-plus-storage system is an all-in-one home energy solution comprising rooftop solar panels and a battery. It ensures any surplus power your panels produce can be stored for you to use at a later time, such as during a power outage or when local electricity prices rise during peak demand times.
Racking
Racking is also referred to as a mounting system and it's used to safely secure solar panels to your roof. Since most solar installations last for 20 to 25 years, it's important to work with a trusted installer who will check the condition of your roof to make sure it can withstand a solar installation. An installer will also ensure the racking is fitted in order to best optimize the angle of your panels for maximum sunlight.
Now that you know these energy definitions, visit the Green Living Blog to learn more about how solar power and battery storage can transform your home energy use.