Your guide to AC- vs. DC-coupled solar PV systems
If you're installing a solar-plus-storage system or adding a battery to an existing solar photovoltaic (PV) system, you've probably come across the terms AC- or DC-coupled. In the context of solar, this isn't a classic rock band; it's a bit of industry jargon that's important to your solar-plus-storage system.
AC- and DC-coupled both refer to the electrical connection between your solar panels and your home battery system. The main difference between them is how the electricity from your solar panels reaches your battery.
Let's take a closer look at the difference between AC- versus DC-coupled solar systems and how you can decide which system makes the most sense for your home.
What do AC and DC mean?
AC means "alternating current," which is when the electric charge changes direction. DC current refers to "direct current," or an electrical charge that moves one way. Solar panels produce DC electricity, which is also how most solar batteries store electricity. Your home appliances, on the other hand, use AC power. This means that the electricity from your panels or your battery needs to be converted into AC power before you can use it. That's exactly what an inverter does.
What are the differences between AC- and DC-coupled systems?
If you have a solar-plus-storage system, the terms AC-coupled and DC-coupled specifically refer to whether the electricity from your solar panels is inverted before or after it's stored in your battery.
AC-coupled systems
AC-coupled systems require two inverters — one for your solar panels and one for your battery. The first inverter converts the DC power from your panels to AC power. But if you don't use this energy immediately, it is transformed back into DC power for your battery to store. When you use this stored power, the inverter on your battery converts it back to AC. Converting the power three times does result in some electrical losses.
Most current systems are AC-coupled. "Home battery systems are primarily AC-coupled because they can typically be added to any pre-existing solar setup using a third-party solar inverter," explains David Lopez, national sales manager, solar & storage at Panasonic North America. "On the other hand, when it comes to a DC-coupled system, the battery must be compatible with a solar inverter, often requiring both the battery and inverter to be from the same manufacturer."
Another benefit of AC-coupled home storage systems is that you can install them as a stand-alone system without solar panels.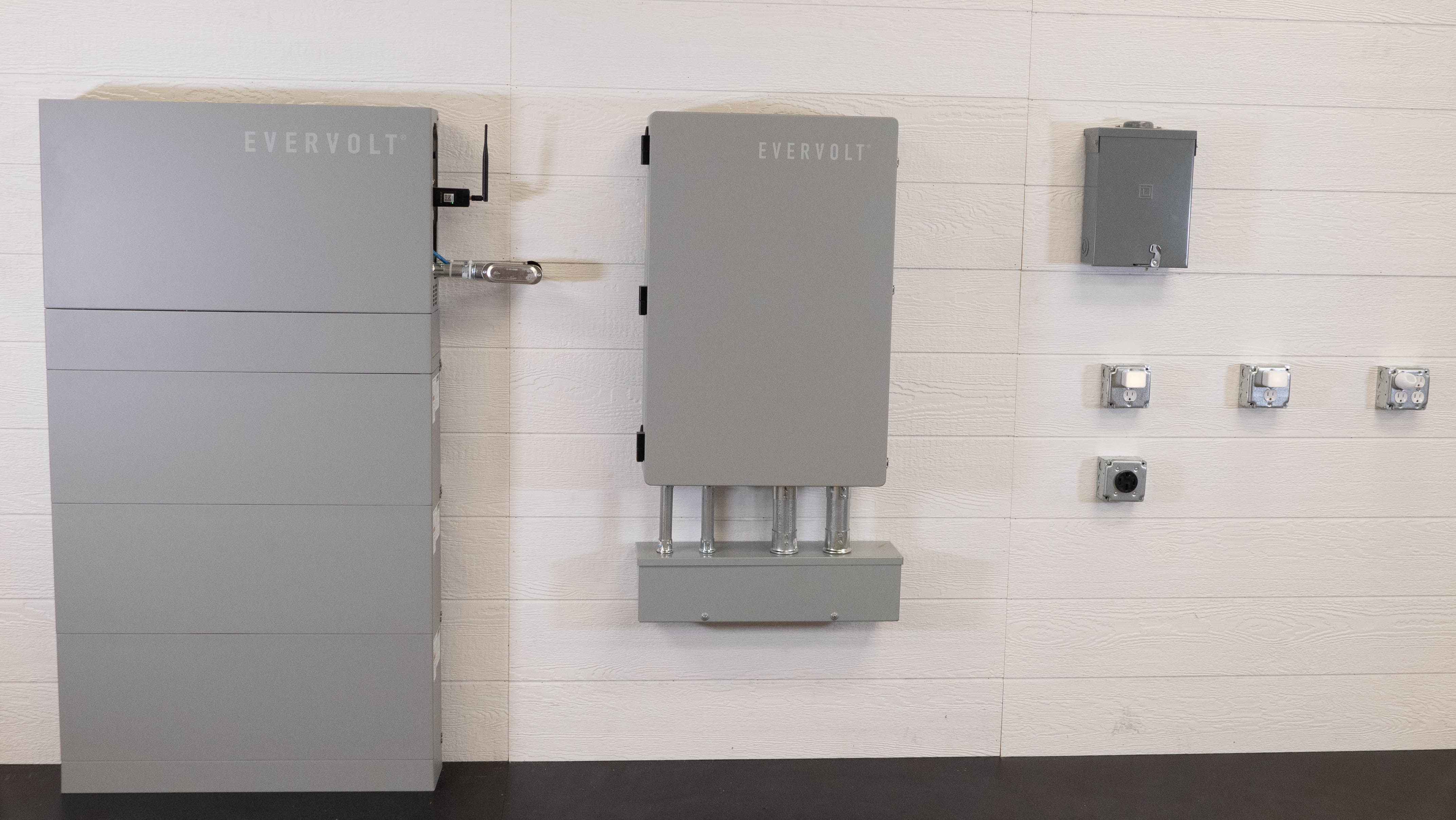 EVERVOLT home battery system - Photo courtesy of Panasonic Eco Systems
DC-coupled systems
DC-coupled systems only need one inverter, known as a hybrid inverter. Here, the DC power from your solar panels flows straight into your battery. The inverter converts the energy just once, from DC to AC, as it flows from the battery to your home appliances. That leads to less electrical loss than with AC-coupled systems; DC-coupled systems are approximately 4-6% more efficient than their AC-coupled counterparts.
Lopez points to increased efficiency as the main draw for DC-coupled systems. "Solar panels produce DC, and batteries require DC to charge, so when you use a DC-coupled system, you eliminate the need for extra conversions," he says.
"Currently, AC-coupled systems dominate the market because most major leaders only offer AC-coupled versions," he goes on. "However, we anticipate a shift in the market in the coming years. This change will be driven by the increasing availability of DC-coupled options and the fact that some major market leaders are also transitioning to provide DC-coupled offerings."
What are the types of inverters?
String inverters
String inverters are the most common and affordable type of inverter. A string inverter connects multiple panels, transforming the DC electricity they produce into AC power. Multiple strings of panels connect to a single inverter that is usually located in an electronics box on the side of your home or in your garage. They work with AC-coupled systems.
Because string inverters connect multiple panels, underperformance from one or more of your panels (e.g., if one panel is shaded) will reduce the power output from the rest of the panels on that string. It's possible that your solar panels won't always generate as much electricity as they could be.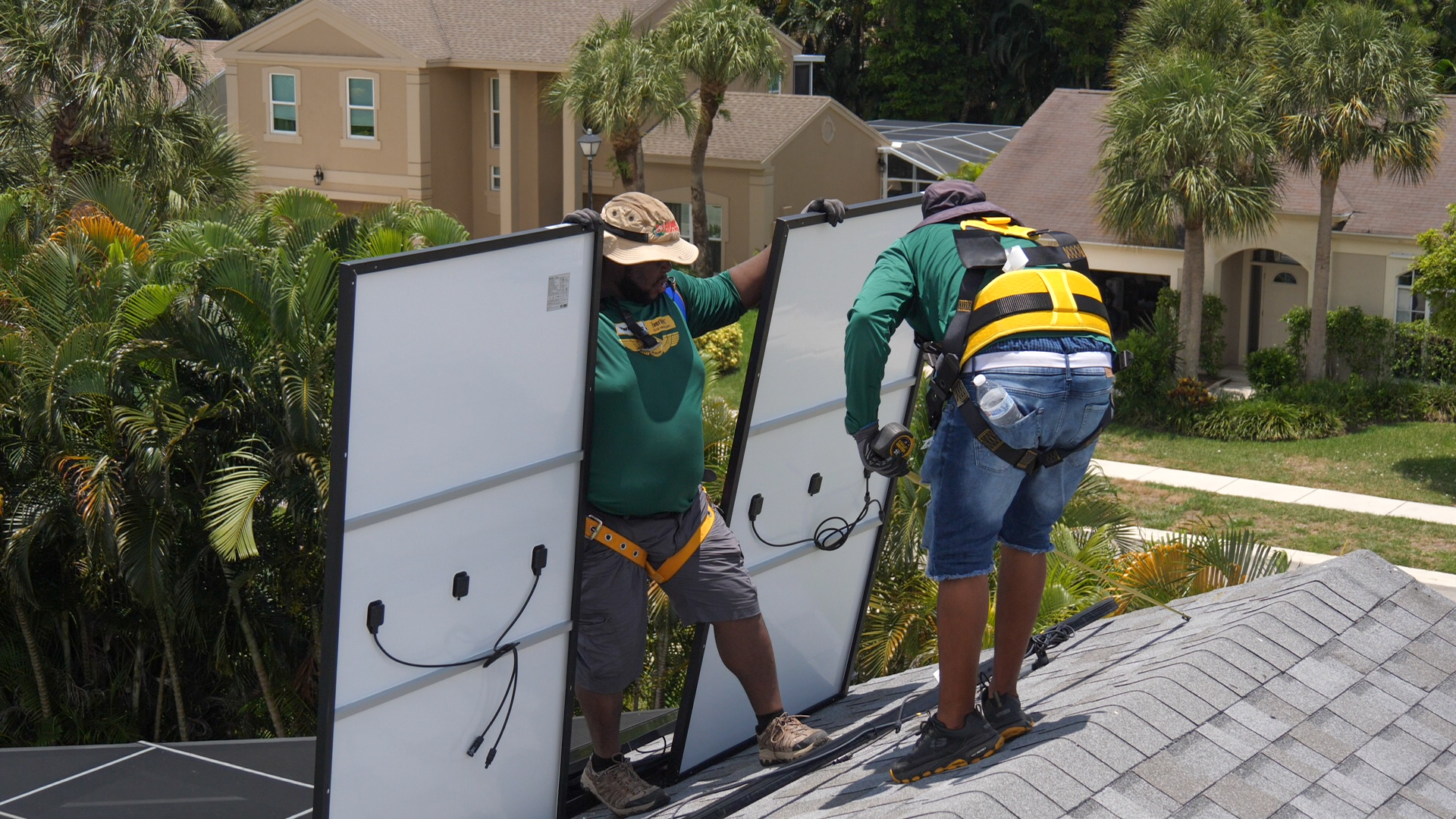 Photo courtesy of Panasonic Eco Systems
Microinverters
Microinverters are installed on the back of each individual solar panel and convert the DC electricity from your panels into AC power. You'll have the same number of microinverters as you do panels, with each inverter operating independently. Microinverters are compatible with AC-coupled systems.
While microinverters tend to be more expensive and harder to maintain, they do ensure that your system performs optimally because the power output of one panel is not affected by the power output of another. Microinverters also allow you to monitor performance at the panel level, which means it's easier to spot a single panel experiencing power losses.
Power optimizers
Power optimizers are not inverters themselves. Like microinverters, power optimizers are located at each panel, so lower power output from one panel does not affect other panels. However, instead of converting electricity, they "condition" the power and send it to a string inverter. Because they're always paired with a string inverter, power optimizers are compatible with AC-coupled systems.
Hybrid inverters
Hybrid inverters are or DC-coupled solar-plus-storage systems. They function as an inverter for the electricity from your solar panels and for the electricity stored in a battery. They are designed specifically for solar-plus-storage, but you can install them preemptively if you plan on adding a battery to your solar panels further down the line.
How to determine the best inverter for your solar-plus-storage system
When you're trying to find the best option for your home, you'll want to consider several factors:
Budget: If you're on a tight budget, string inverters are less expensive, more durable, and easier to install and maintain because they're not on the roof.

Your roof's orientation and shading: If your roof doesn't face south, your panels face multiple directions, or your roof gets shade throughout the day, microinverters or power optimizers may be the better choice. They'll ensure that lower performance from one solar panel doesn't affect the overall power output from your system.

Whether you plan to add more solar panels in the future: Microinverters make it easier to expand your solar PV system in the future.

Whether you're adding a home battery to an existing solar system: If you're adding a battery to existing solar panels, AC-coupled systems are easier and cheaper to install. If you're installing a solar-plus-storage system at the same time, however, DC-coupled systems have fewer components and can be more efficient.
It can be challenging to ensure maximum power output at a minimal upfront cost. But working with a good installer will help ensure that your system is designed to meet your energy requirements without blowing your budget.
The right home storage system makes a difference, too. Panasonic's EVERVOLT Home Battery System uses a hybrid inverter. That means it can pair with new solar systems in a DC-coupled setup, integrate into existing solar systems using AC-coupling, or do both simultaneously. EVERVOLT can also charge directly from the grid. That flexibility means you can participate in demand response programs and save money by storing energy when electricity rates are lowest.
Find out more about how EVERVOLT can save you money on energy and protect your home from power outages.