AC vs. DC home battery systems — which is right for you?
Photo credit EGT Solar
Battery storage has become an increasingly popular option for homeowners looking to either improve their home solar system or gain independence from the power grid (or both). But batteries are relatively new to the residential space, and the different options can be confusing. With so many choices, where should you start?
One of the first decisions you will need to make is whether to buy an AC or DC battery. Let's take a look at what this means, the pros and cons of AC and DC, and how to choose the right battery storage system for your home.
Why get a home battery system?
Home batteries are a great way to increase your resilience to power outages because they store energy from solar panels or the electric grid. If the grid goes down, your home will automatically switch to running on your battery. You'll be able to power critical appliances without interruption. You can also draw energy from your home battery when electricity prices are high so that you don't have to pay for that energy.
What are AC vs. DC home batteries?
AC and DC are abbreviations for two types of electrical current: alternating current and direct current. The biggest difference between the two types of current is the distance they can travel without suffering major power losses. AC can travel long distances without losing much power, whereas DC electricity can't travel as far but is much easier to store.
Because AC is much better than DC for long-distance transmission, the power grid uses alternating current. Most of your home appliances also use AC. However, solar panels produce DC power, which is also how most batteries store it. This means that before you can use any electricity from your panels or battery, it needs to be converted into AC power for your appliances to use.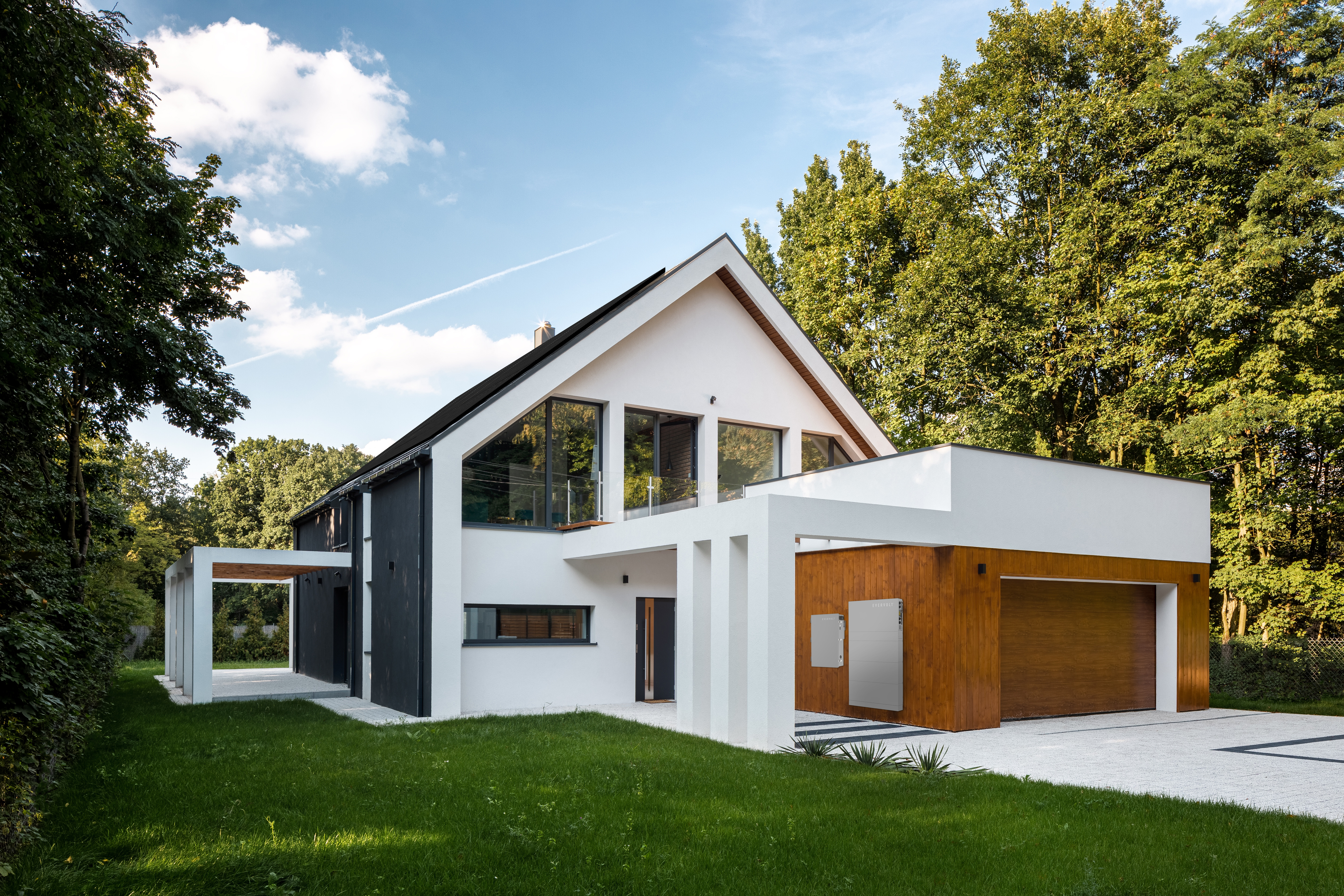 EVERVOLT Home Battery System, photo credit Panasonic Eco Systems
AC vs DC-coupled batteries
Converting power from your solar panels or battery into useable AC electricity for your home requires an inverter. This device is responsible for the biggest difference between AC and DC batteries.
AC home batteries
AC-coupled batteries require two inverters, one for the battery and one for your solar panels, if you have them. There are several pros and cons to AC-coupled batteries:
Typically slightly less efficient than DC-coupled batteries
Easier and more flexible to install, especially if you already have solar panels
Work well with both new and existing solar installations
Battery faults won't affect your solar panels and vice versa
Compatible with different inverters, including Enphase and SolarEdge
DC home batteries
DC-coupled batteries only need a single inverter. There are several pros and cons to DC-coupled batteries:
Typically more efficient than AC-coupled batteries
Fully integrated with a solar PV system
Tend to cost less because they have fewer components
Can be used in more applications, such as electric vehicle charging
Standalone home batteries
It's worth noting that you can install and use batteries if you don't have solar panels. With an increasingly unreliable grid and recurring power outages, standalone battery systems are becoming a viable option for backup power over traditional gas-powered generators. If you don't have solar panels, the batteries can be recharged and store power from the grid.
If you do pair solar and storage, your battery will store the energy generated by your solar panels. When the power goes out or electricity prices peak, you can use the free solar energy stored in your battery.
Which type of battery is right for me?
This depends on several factors, including your budget and whether or not you already have solar panels installed on your roof. While both types of batteries can be used almost anywhere, AC-coupled batteries are a good option for existing solar systems because they're less expensive and easier to retrofit. On the other hand, if you're installing new solar panels and a battery at the same time, a DC-coupled battery might be a better match because they're usually more efficient and suffer fewer power losses.
When thinking about your budget, be sure to factor in the incentives you can get from the federal investment tax credit (ITC) and any state programs. The federal ITC allows you to deduct 30% of the cost of your standalone battery or your solar-plus-storage system from your taxes. Many states have additional tax credits or rebates for battery storage.
Home batteries are a great way to protect yourself from power outages and save money on high electricity prices. When you're ready, Panasonic's total home energy system makes access to solar panels and battery storage easy with a complete renewable home energy solution. The EverVolt home battery system comes in both AC- and DC-coupled models. A trusted installer can help you find the best option for your home.