How much do solar panels cost? Breaking down the price
Not all rooftop solar systems are created equal. The price you pay for your solar panels can vary drastically — even by several thousands of dollars — from what another homeowner pays for a similar system. That's because factors such as where you live, your roof, and the type of panels you buy all influence the final cost of installing solar panels on your property.
Fortunately, many of these factors are within your control. By understanding these parameters, you can design and install a system that meets your needs while staying within your budget. Let's take a closer look.
What does a solar panel system cost?
The average residential solar system costs between $13,000 and $20,000, although costs can range as high as $40,000 for high-end installations. That's a fairly large range. The difference depends on a number of factors, which we'll get into below.
What factors affect the price of solar?
#1. Your roof
Some roofs are easier for solar panel installation than others. Roofs with obstructions, such as skylights, and those made from fragile materials like slate and wood, for example, may be more challenging for installers. The more complex an installation, the more an installer will charge for it.
Another consideration is the condition of your roof and whether all or part of it may need replacing. It's worth doing any necessary work before installing solar, because taking panels off and putting them back on will be expensive. Replacing a roof will add about $10,000 to your costs.
#2. Solar panel quality
When comparing solar panels and prices, make sure you consider panel efficiency and warranties. More efficient panels tend to be more expensive, but you will need fewer of them because they produce more electricity. Higher-quality panels tend to have longer warranties. A 25-year warranty (inclusive of labor) like Panasonic's is at the higher end of the scale.
#3. Solar panel type
There are two main types of solar panel: monocrystalline and polycrystalline. Monocrystalline panels are the highest performing and are usually more expensive. However, you may need fewer of them because of their higher efficiency, so the overall cost difference between monocrystalline and polycrystalline panels may not be as wide as you think.
#4. Solar panel system size
Installers should design a solar system that can meet the full energy requirements of your home. Just keep in mind that the more energy you use, the more panels you'll need. While larger systems tend to be more expensive, they also provide greater savings on your electricity bills.
#5. Where you live
Solar installation costs do vary by state, but not by much. The bigger factor is actually the price you pay for power, which varies widely from state to state. Homeowners in New England, for example, pay an average 31.08 cents per kilowatt-hour, while homeowners in Oregon pay just 12.5 cents per kilowatt-hour. The more you pay for electricity, the greater the savings you can expect from solar.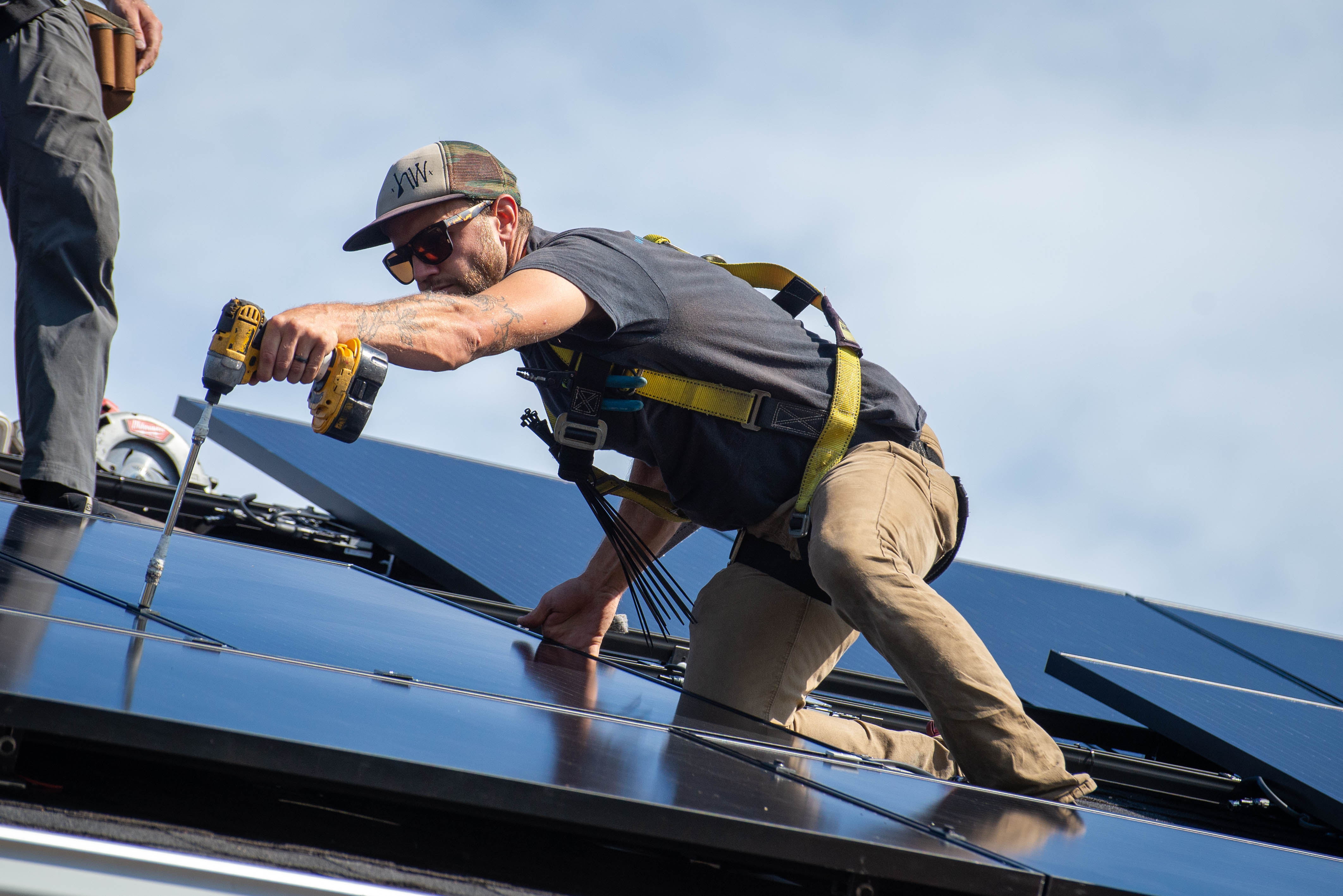 Photo credit: Western Solar & Panasonic Eco Systems
#6. Federal and local incentives for solar
If you're a U.S. homeowner, you're eligible for the federal investment tax credit (ITC), which allows you to deduct 30% of the total costs of your solar panels from your federal tax bill. Many states offer additional incentives that can be combined with the ITC to lower your costs even more. Take a look at DSIRE to determine the incentives your state offers.
#7. Energy system add-ons
Adding a battery to your system will increase your upfront costs, but it will also increase your energy savings. Batteries enable you to store surplus solar power to use at another time, such as when electricity prices rise at times of peak demand. With battery storage, you can offset your exposure to price increases. Battery storage is also eligible under the ITC.
How much can you save by installing solar panels?
Solar can reduce and sometimes even completely eliminate your electricity bill. The average home can save about $1,500 a year on energy costs after installing solar panels, which can add up to between $25,500 and $33,000 over your solar system's lifetime. If you live in an area with high electricity rates, you could save even more.
How long does it take for a solar energy system to pay for itself?
It takes about 8.7 years for a home solar system to break even. To figure out how long it will take for your system to pay for itself, take the total amount you spent on installing the system, minus the federal ITC and any other incentives, and divide it by your annual savings on your electricity bills.
There are so many factors that affect the final price you pay for a home solar installation. A reputable installer familiar with your area will work with you to understand your priorities and design a system optimized to meet your household energy requirements and budget. Panasonic has all the information you need to start your solar journey, including a network of reputable installers. Learn more.