Do solar panels have to be on the roof? Four other places to install panels
Photo courtesy of Energy Consultants Group, Cedar Rapids, IA
Here's a common conundrum for homeowners: They want to install solar panels, but their roof just isn't a good fit. Maybe it's too shaded or it's not oriented the right way. Maybe the entire roof needs to be replaced to support solar panels. What should you do if you find yourself in this scenario?
The good news is that solar panels don't have to be installed on a roof. Sometimes it makes more sense to locate them elsewhere, such as on the ground, so they're optimally positioned to capture as much sunlight as possible — and therefore generate as much electricity as possible. 
If rooftop solar isn't an ideal fit for you, here's a closer look at some alternative options:
Ground-mounted solar 
Solar panels on the ground operate the same way as rooftop panels, except they are fixed to a frame that's dug into the ground. Ground-mounted panels make it easier to choose the ideal location, too. Rooftop installations, for instance, are limited by the direction your roof faces and shaded areas, such as chimneys and skylights, that can lower the efficiency of your panels.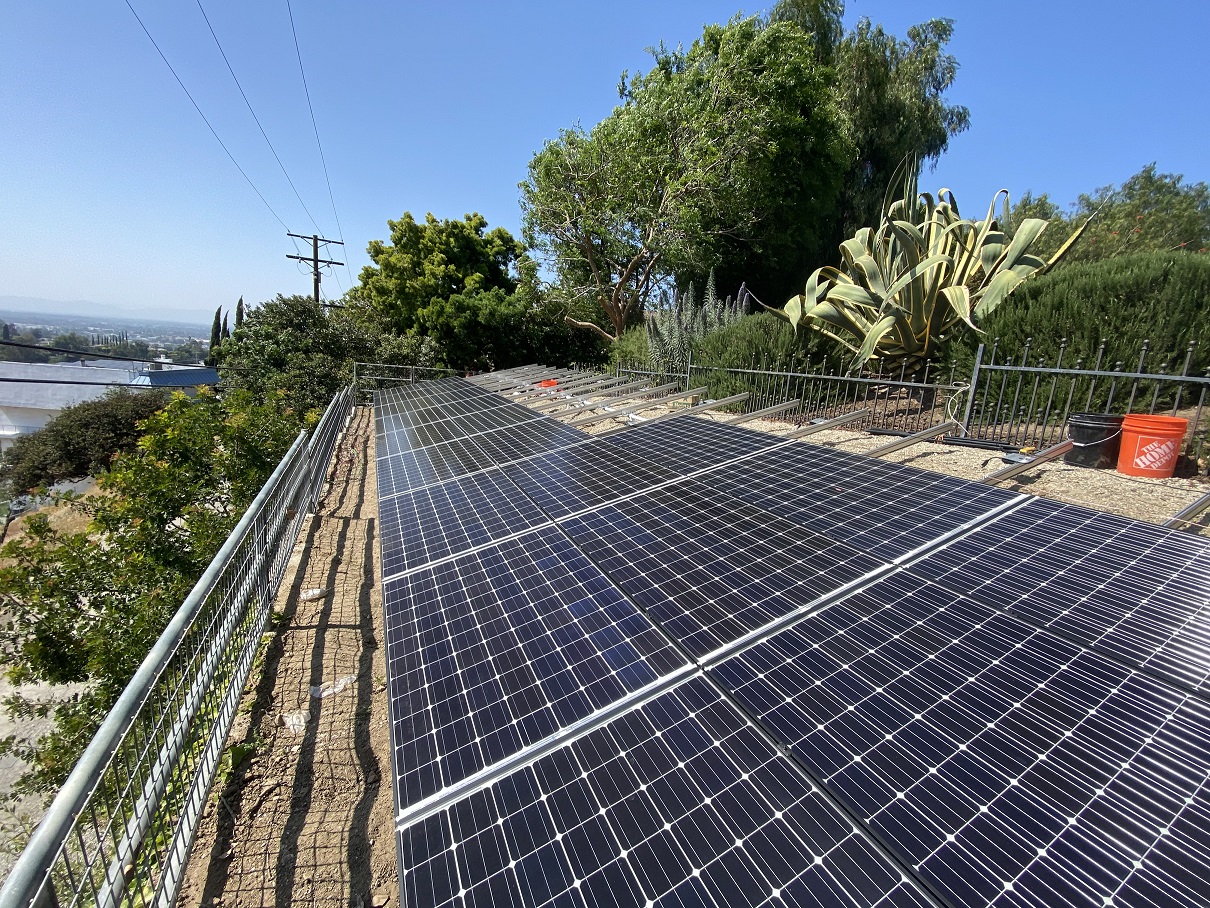 Photo courtesy of Solar Price Discovery, Northridge, CA
Ground-mounted systems can be more expensive to install — typically about 30 cents more per watt — than rooftop solar, but they tend to be more efficient at producing power because they're positioned to capture as much sunlight as possible throughout the day. The flexibility of ground-mounted systems doesn't just apply to positioning, either. Without the space limitations of a roof, you can install enough panels to meet the energy requirements of your home, saving more on your bills in the long run. 
Another benefit of ground-mounted systems is the option to add a tracking system to your panels, which can boost production by as much as 25% or more. Tracking systems move your solar panels as the sun moves in the sky, enabling them to capture as much sunlight as possible at all times.  
Solar carports 
A solar carport is a standalone structure that shelters parked cars while it generates clean energy from solar panels. You can think of a solar carport as an elevated version of a ground-mounted solar system, with the panels lifted high enough to fit vehicles underneath. A solar carport uses otherwise wasted parking space to create energy and doesn't require the same amount of land as ground-mounted panels. 
Installers can angle panels on a solar carport at the optimal position for sunlight exposure and ensure that the carport houses exactly the right number of solar panels to meet your energy requirements. The electricity produced can be stored in a battery and used in your home, or you can integrate the electricity with an electric vehicle charging port. Solar carports typically cost a little more than ground-mounted systems.
Solar awnings 
Similar to carports, a solar awning doesn't require additional land. Instead, it turns an existing or new structure into an energy-generating hub. Here, the top of an awning functions as a foundation for solar panels.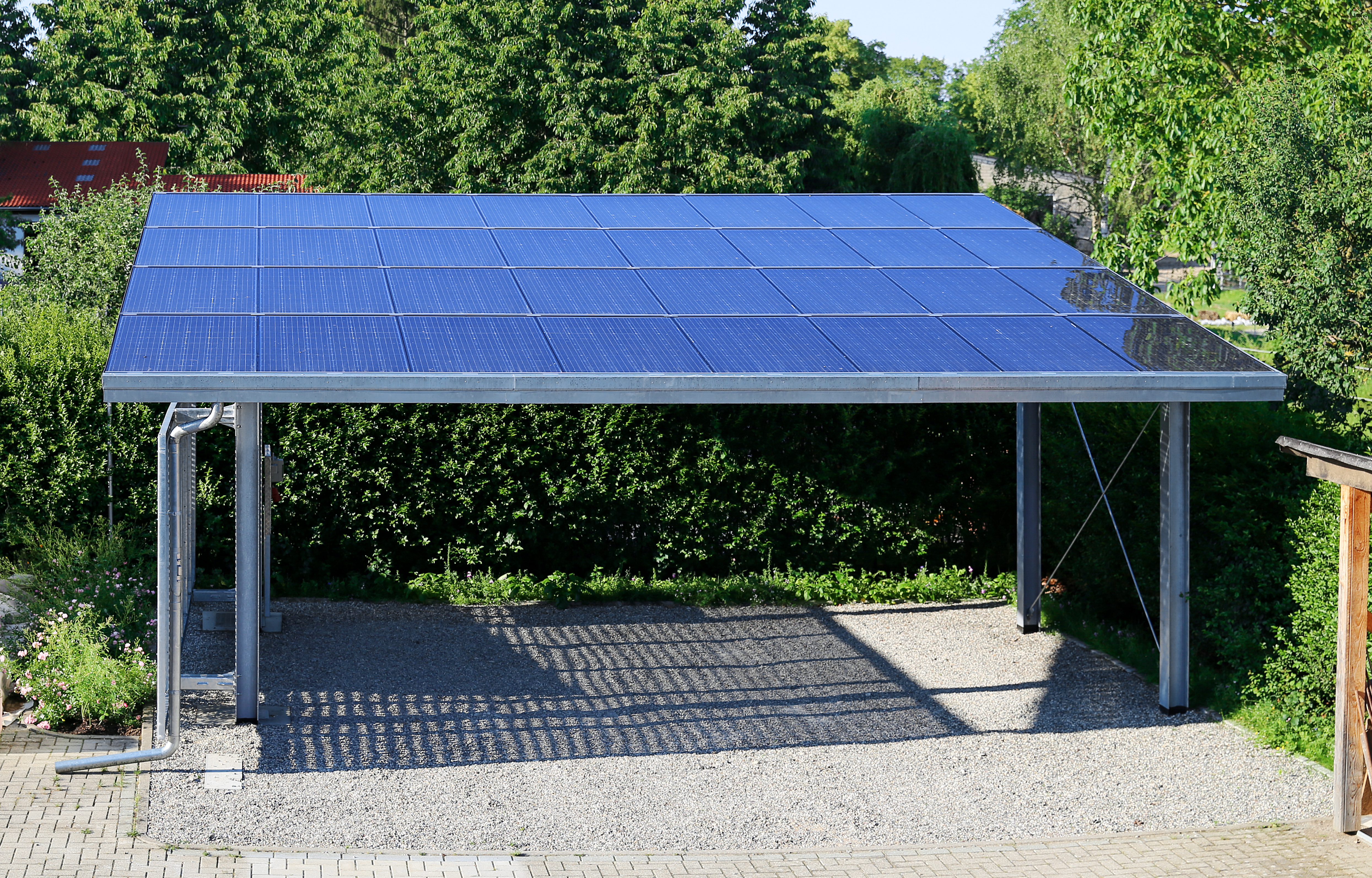 If you're building a new standalone patio awning, integrating solar panels on the roof is a no-brainer. Building from scratch also allows you to design a system ideally suited for maximum electricity production. Outfitting an existing awning with solar panels makes great use of existing space. Either way,  your awning can double as an energy generator, providing free, clean power for your home and helping to lower your energy bills.
Solar sheds, garages, and greenhouses 
The key considerations with adding panels to any of these structures are the size of available roof space and strength of the roof. A single solar panel, for instance, weighs about 40 pounds. A sunny, south-facing roof on a shed, garage, or greenhouse is ideal, but east- or west-facing roofs will work too. No matter which way your shed, garage or greenhouse roof's direction faces, you'll want to try to keep the roof out of the shade.  
Given these structures typically have smaller roofs than your house, you probably won't be able to accommodate enough panels to power your entire home. You can, however, install enough to meet a large chunk of your energy needs or use the power to charge an electric vehicle. Regardless of how many panels you install, you'll still be turning otherwise unused space into a source of free energy. 
Even if the roof of your house is well suited for solar panels, you may determine other locations on your property that would be even better for solar. A knowledgeable installer can help explore the range of options available and work with you to understand the best fit for your home energy needs and budget. 
Ready to get started? Panasonic's network of trusted installers has the knowledge, tools, and experience to help you plan the best solar system for your home. Explore our installer locator and other solar resources.