How to heat a greenhouse with solar panels
Eco-conscious homeowners are going solar to reduce the fossil fuels they use at home. But did you know that you can use solar panels to power your greenhouse, too? It's just one of several green home improvement projects you can do to make your home more sustainable. When you're ready to install solar panels anywhere on your property, Panasonic has all the tools to help you.
You might think greenhouses can regulate their temperature on their own. The glass lets the sun's rays in to provide vegetation with warmth, after all. But icy mornings seep through the cracks, so extra heating is a must.
Most of the time, greenhouses are heated through oil or gas-powered energy, perhaps with a generator or other clunky technology.
But instead of antiquated machinery that often uses large amounts of fossil fuels and isn't great for the environment or the plants within the greenhouse, beginners and veteran greenhouse keepers should consider renewable energy to optimize conditions.
Here, we explore how solar panels can work for your greenhouse and provide you with clean energy and temperature consistency.
How do solar panels work for a greenhouse?
PV panel arrays, working alongside electric-powered heaters, are the most well-known renewable energy options for greenhouses. Photovoltaic (PV) panels transform the sun's warmth into power. The PV system then distributes power to heaters, which activate to control temperature.
Solar panels are more than rooftop additions, though they usually take that form. Smaller solar panels can sit atop heaters or other temperature-regulating devices. Panels can also be mounted on the ground instead of on the roof.
There are a few crucial tips for creating an ideal greenhouse solar setup that will provide maximum energy for the longest time possible. Newcomers to the solar world will have these main questions to research on their own or to inquire about from local expert installers:
Where is the best place to put your panels? Does orientation matter? South-facing panels will offer the best results. They're best positioned at a 30- or 45-degree angle.
Is the glass roof of your greenhouse fit for solar panels? Some experts claim that glass is the most beneficial rooftop for solar panels because it generates the most power. You'll need to do a thorough evaluation of the structural strength and integrity of your roof, though; a task best taken on by professionals.
How will you clean the panels so they stay efficient? Removing debris and dirt is essential so they won't impact performance. Owners can contact professionals if they're hesitant to perform the work themselves. However, methods that work well for glass work well for panels. Water and soft cloths quickly move debris with no need for abrasive chemicals.
How much cloud cover does your region get? Perhaps you own a greenhouse and have pondered solar panels but keep returning to one fact – the sun doesn't always shine. Just because you can't see the sun behind the clouds doesn't mean the sun's rays aren't making it to your solar panels, though. Efficiency reduces, but energy backups can kick in if there are concerns over the health of the plants.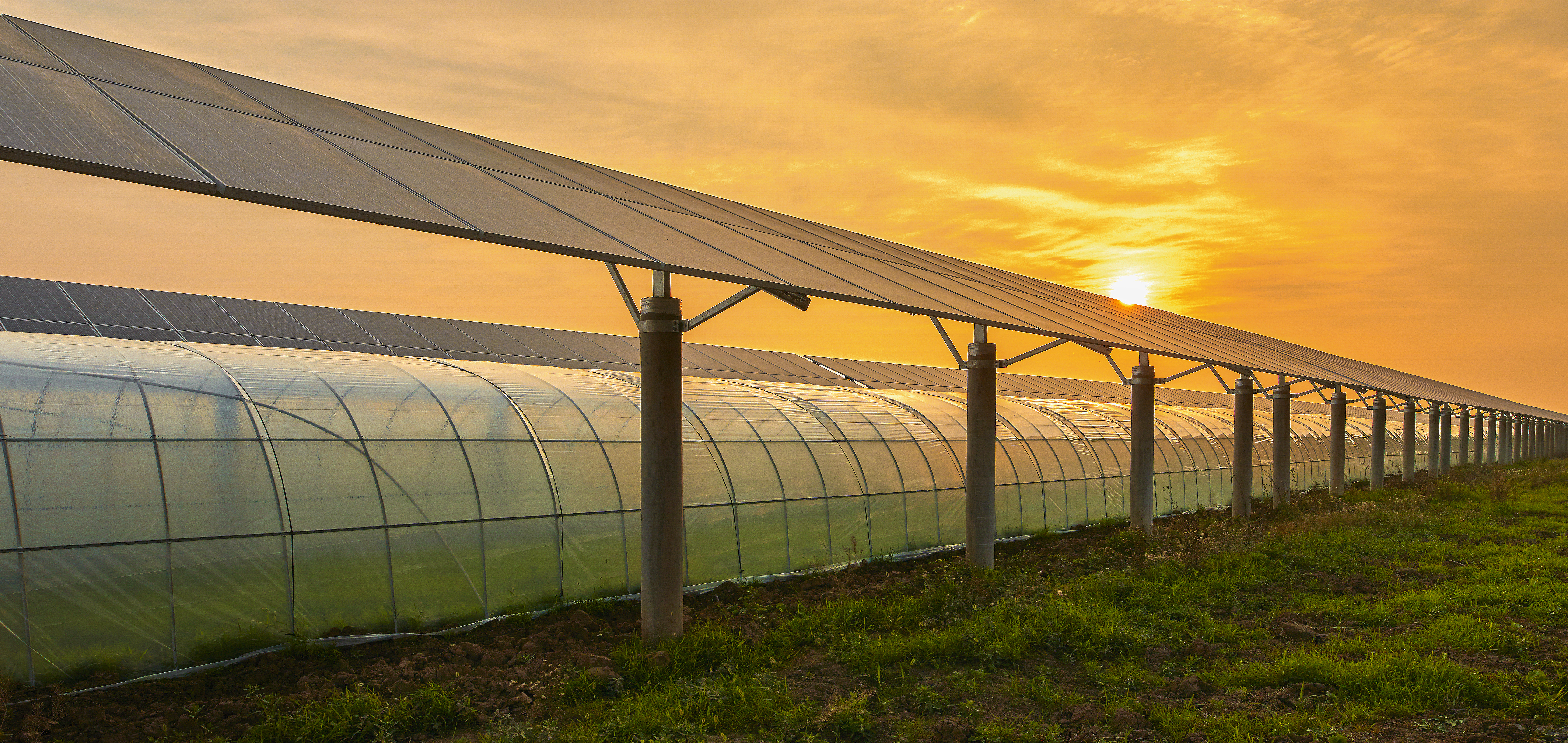 Buyers will want to think about grid connectivity as well. Solar power doesn't need to be connected to a larger grid to work, but both options have unique incentives, especially in net metering regions.
Connect to the grid or go off-grid?
There will be days when solar tech generates more power than the greenhouse needs, so extra energy has to go somewhere so it doesn't go to waste.
Connecting to the grid means you don't keep the excess energy your greenhouse panels might generate on a sunny day. It flows to your local power grid, and in a net-metering program, you receive compensation for it. That's one incentive.
Another is that you can depend on the grid to distribute additional power to your setup when needed, say, at the end of a string of dark, cloudy days.
Off-grid options exist, and many people choose to have energy storage solutions, like a deep-cycle battery pack, so they can remain energy independent. The main benefit to energy independence is that if the local power grid goes down, your greenhouse will retain electricity and heat.
Several storage solutions are available for buyers. Batteries exist in various compositions, from lead acid to nickel-cadmium, offering varied pros and cons. But there are also innovative solutions that connect to the panels and provide data and insight for buyers.
With advanced systems, the technology can determine how much power to distribute or supplement during cloudy days or in erratic temperatures. With a little analytics collection, the data points should guide greenhouse operators to the correct configurations.
Some greenhouse operators prefer a grid-tied hybrid option where they still have backups and try to rely on the grid less.
What additional components will a greenhouse need?
Solar storage is just one of the components owners can add to their solar system for increased flexibility. The additional equipment you use will depend on your goals for the greenhouse. These are some of the most essential components you'll need to choose from to configure your system:
Inverters: Homes and appliances generally have AC power, but solar panels produce DC power, so you'll need to choose an inverter. Three types of inverters exist – string, microinverters and power optimizers. String inverters tie all panels to one unit for conversion. Microinverters convert DC to AC at the site of each individual panel. Power optimizers can be paired with string inverters to independently control each panel's power output.
Monitors or sensors: Internet of Things (IoT) equipment and smart technology can enhance a solar experience by providing users with real-time data on its performance. Regular maintenance can keep panels in good condition without additional software or apps, but it can alert owners of changes in performance that could impact plant species.
Racking and grounding equipment: Whether panels are on the roof or on the ground, installers do not nail them directly into a surface. Usually, they require racking to keep them stable. They also help create an angle, especially if the rooftop or surface doesn't have the right angle to catch optimal light. There are fixed mounts that remain in place and tracking mounts that adjust to the sun's rays.

How many solar panels does a greenhouse need?
The number of solar panels your greenhouse needs largely depends on energy consumption and the local climate. Cooler regions will need more power to heat their greenhouses, even if they're growing the same quantity and species of plants as someone in warmer areas.
You can look to your energy bills to figure out how much energy you use, and then find an online solar calculator to ballpark how many panels you will need to cover your consumption.
The output of a solar panel is the wattage, measured alongside peak sun exposure hours on average in a given day. The modern standard is around 400 Watts, with an average of 4.5 hours of sun in the US, which equates to an estimated 54 kWh each month.
These are a few additional considerations that help to more accurately determine how many panels a set up will require:
Square footage of the greenhouse
The composition of the panels (monocrystalline vs polycrystalline)
The orientation and pitch of the greenhouse roof, if rooftop panels are used
Tree coverage and other obstructions that could be obstacles to efficiency
Optimizing power with other technologies, such as air circulators or Internet of Things (IoT) devices
Type of vegetation growing, such as tropical plants that require higher humidity
Space for solar infrastructure, including an analysis of rooftop condition and slant
These factors, among others, could impact budgets, as well as the complexity of a solar greenhouse setup. Knowing how many influences can be at play will allow you to make more informed decisions, especially if you choose to DIY a solar array.
What drawbacks will buyers have to overcome?
Greenhouse solar panel users could encounter several issues. Solar systems are an evolving technology and require patience and maintenance, especially if natural disasters hit unexpectedly. There are methods for overcoming these drawbacks so greenhouses stay temperature-controlled and secure.
Protecting a greenhouse solar system depends in part on geography. What is the climate like in the region you live in? Are there severe thunderstorms, wildfires or hail? Solar panel makers have standards to follow to make them resilient against environmental stressors, but there are extra precautions owners can take to further protect the panels and greenhouse plants.
Greenhouse operators may already have security measures to protect their greenhouse, anyway. Extend this degree of care to your solar panels.
Another barrier is price. A way to overcome this barrier is to choose monocrystalline over polycrystalline, even though they're more expensive. This is a budget-friendly option because it is more efficient and therefore produces a faster return on investment.
Ultimately, so long as the panels are silicon-based, they will function well enough for most hobby and even professional greenhouse setups.
You could also reduce the number of panels you need to invest in by incorporating passive heating methods alongside a solar system, such as placing black rocks outside that absorb and release heat into the walls.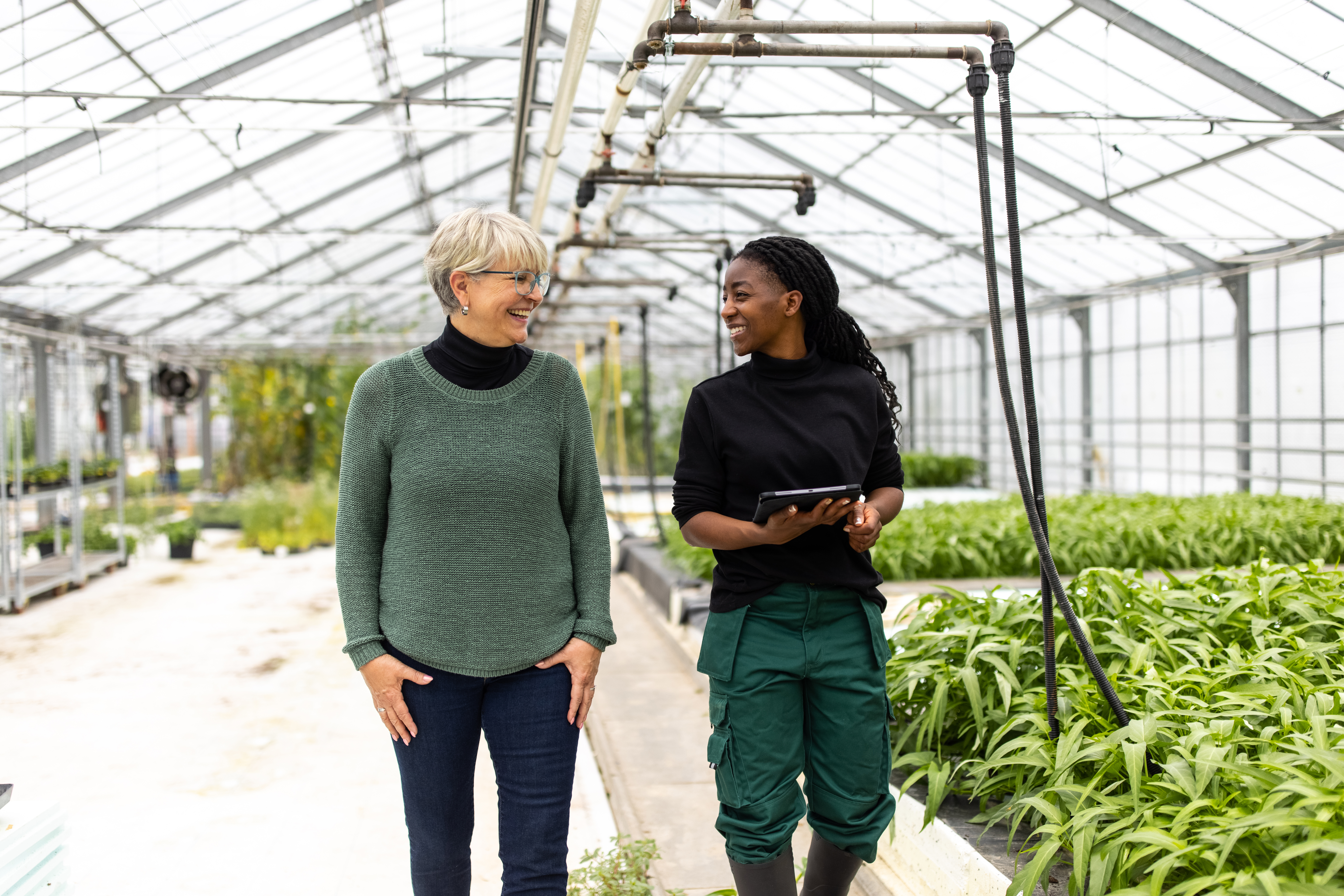 DIYing is certainly a way to cut costs. Kits are available for people who don't want to splurge on contractors; however, you could still hire professionals to perform an inspection and provide recommendations on the best technology for your setup to save you any costly mistakes.
Finding the right technology may also be an issue. If a greenhouse owner purchases PV panels, they may need to seek elsewhere for storage, inverters and other peripherals. The panel provider may have recommendations, but business partnerships, rather than quality, may influence them. It gets more complicated when not all solar products are brand agnostic.
Some panels may not be compatible with specific batteries, for example. It's essential to do adequate research or seek an expert's advice.
How do solar panels help the greenhouse?
Whatever grows inside the greenhouse will benefit from solar panels giving them warmth instead of traditional, fossil fuel-powered methods. A solar system also improves the reputation of greenhouses, especially when carbon-intensive materials like steel are necessary for most builds and when emissions from energy consumption can be through the roof.
Solar panels produce clean energy, virtually free of carbon emissions, apart from value chain emissions generated during material extraction, manufacturing and transportation. However, the shelf life of solar panels outlives these factors to provide greenhouses with Earth-friendly power.
This clean energy helps the environment outside the greenhouse and inside, too. Plants get exposed to fewer potentially harmful pollutants or toxic substances due to byproducts of old-fashioned, inefficient tech.
Hybrid and off-grid systems also keep plants healthy in case of a disaster. If cyberattacks impact critical infrastructure or high winds cause power outages, your solar setup could keep the lights on and plants warm. A boon like this is particularly beneficial for homesteaders who rely on fruitful harvests to feed their households and potentially make a side income.
Forging lifestyle resilience this way is the most empowering benefit of running your greenhouse on solar, especially if buyers choose organic solar cells to nourish their plants.
Take care of a greenhouse with solar panels
Solar could improve the atmosphere inside and outside a greenhouse to foster more remarkable plant growth and healthier output. Plus, it makes owners more eco-conscious, phasing out old technology that's inefficient and unkind to the planet.
Though the learning curve seems high, professionals have countless resources for helpful information, and simpler arrays are available for even the smallest greenhouse. In no time, your greenhouse could be solar-powered, leading a clean energy revolution for planet and crop growth.
This article was written by Jane Marsh from Green Home Gnome and was legally licensed through the Industry Dive Content Marketplace. Please direct all licensing questions to [email protected].