Will adding solar affect my homeowners insurance?
Solar panels can be a great investment, but it's important to think about protecting your panels after they're installed. This article explores important considerations and tips for making sure your homeowners insurance protects your solar panels. Learn more about how Panasonic can help you begin your solar journey.
Installing solar panels is an excellent way for homeowners to go green and save a little money on their monthly energy bills, but it poses some challenges too. First, there's the large upfront expense, which can easily cost a homeowner anywhere from $15,000 to $25,000, according to the Center for Sustainable Energy.
Then there's the problem of protecting that investment once it's made. Here's a look at the coverage homeowners insurance offers for solar panels.
Homeowners insurance usually covers solar panels
A standard homeowners insurance policy covers roof-mounted solar panels under the policy's dwelling coverage. If the solar panels are on the ground or on the roof of a shed or detached garage, they'd be covered under the policy's other structures coverage. Both will pay some to replace solar panels, but dwelling coverage offers much greater protection.
Home insurers pay up to the policy's limit to repair damages to the dwelling itself. But other structures on the property don't receive the same level of protection. There's usually a cap – often about 10% of the policy's dwelling coverage – on how much the insurer will pay to repair these structures. For example, if the home is insured for $200,000, other structures on the property are only insured up to $20,000. This might not always be enough to replace the full array of solar panels, if necessary.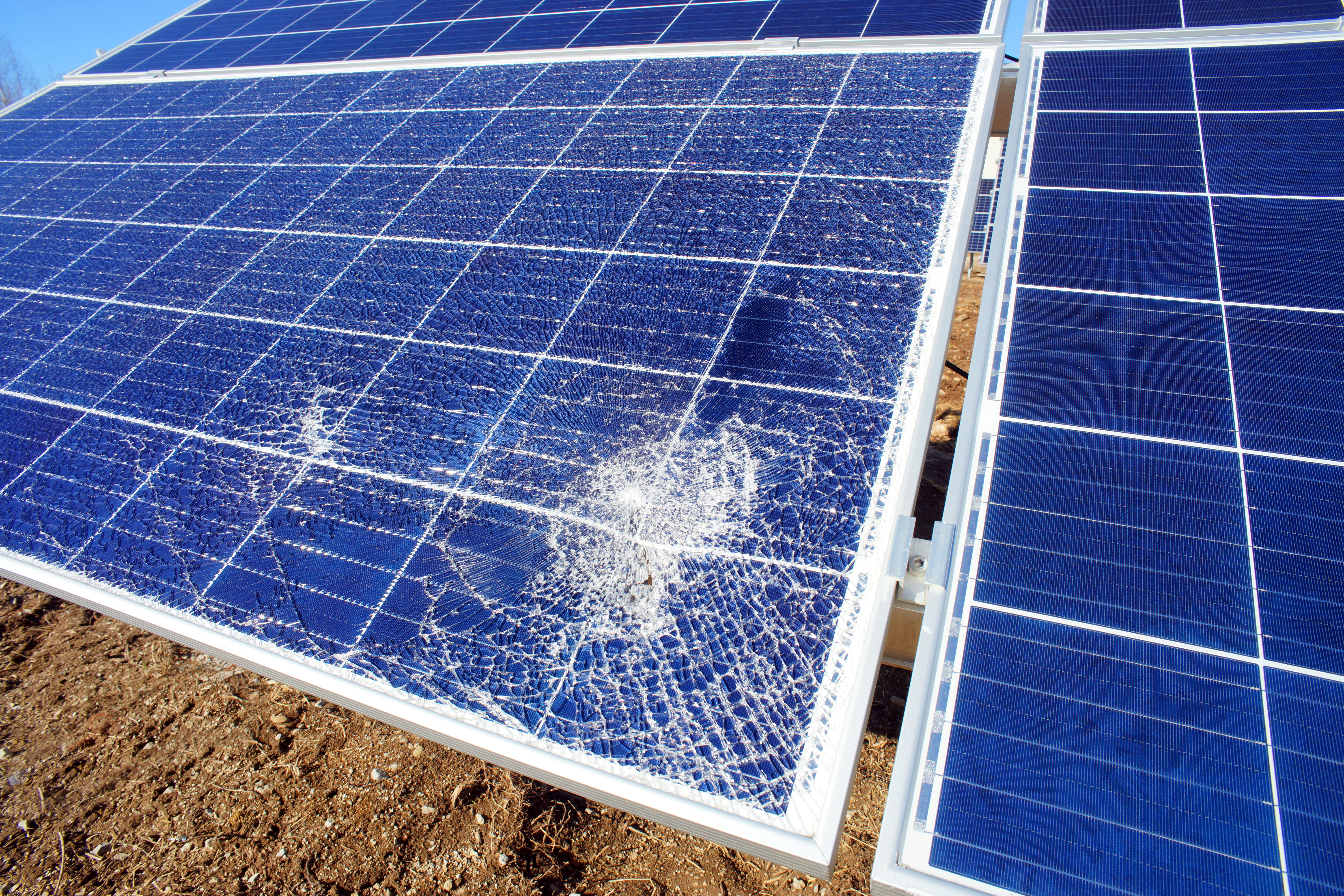 Another key caveat is that insurers only cover solar panels if they're damaged by a covered peril. Issues like flood and earthquake damage aren't covered under a standard homeowners insurance policy. Homeowners are liable for repairs in these situations unless they have flood or earthquake insurance.
Some homeowners insurance providers also don't cover solar panels damaged by wind or hail. Or they may require the homeowner to pay a separate – and higher – deductible before they'll pay anything for wind or hail damage. This is especially common in areas prone to large hail events and severe storms.
How to ensure solar panels are fully protected
Homeowners thinking about installing solar panels should first review their existing coverage to see whether there are any notable gaps. If, for example, they're concerned about possible hail damage and their policy has a hail damage exclusion for solar panels, they may want to look into a policy that offers protection against hail.
They may also want to increase their homeowners policy limit. Adding solar panels increases the value of the home as well as the cost to rebuild if the house is destroyed by a fire or storm. If homeowners don't want to be responsible for paying the difference on their own, they should talk to their insurer about adding additional coverage.
Individuals who lease their solar panels may not need to purchase additional coverage for their solar panels because some leasing companies carry their own insurance for the solar panels. It's best for homeowners to check with the company they're working with before they make any changes to their policy.
It's ultimately up to the homeowner to decide whether solar panels are worth this additional cost, but keep in mind, they can offer excellent long-term savings that can help offset the cost of these higher insurance premiums.
This article was written by Kailey Hagen from The Motley Fool and was legally licensed through the Industry Dive Content Marketplace. Please direct all licensing questions to [email protected].