Solar style guide: How to design an attractive rooftop solar system
Photo of Panasonic solar installation courtesy of Orange County Solar.
If you're considering installing solar panels on your roof, you might be wondering what the system will look like and how it can be designed to suit the aesthetics of your property. Will it be discreet and blend in with the look and feel of your home, or will it make a statement and stand-out? Here's a look at the design options available to you, so that you can work closely with your installer to implement a system that looks great and adds value to your home.
A typical solar panel
Residential solar panels tend to be roughly 5 feet long and 3 feet wide and weigh about 40 pounds each. Most comprise of individual cells that sit on-top of a backing sheet and it's these cells that turn sunlight into energy. Surrounding the panel is a frame, which is used to mount the system onto your roof. While there is limited choice in the color and style of panels, the way that they are mounted and positioned is crucial to the final look and feel of your system.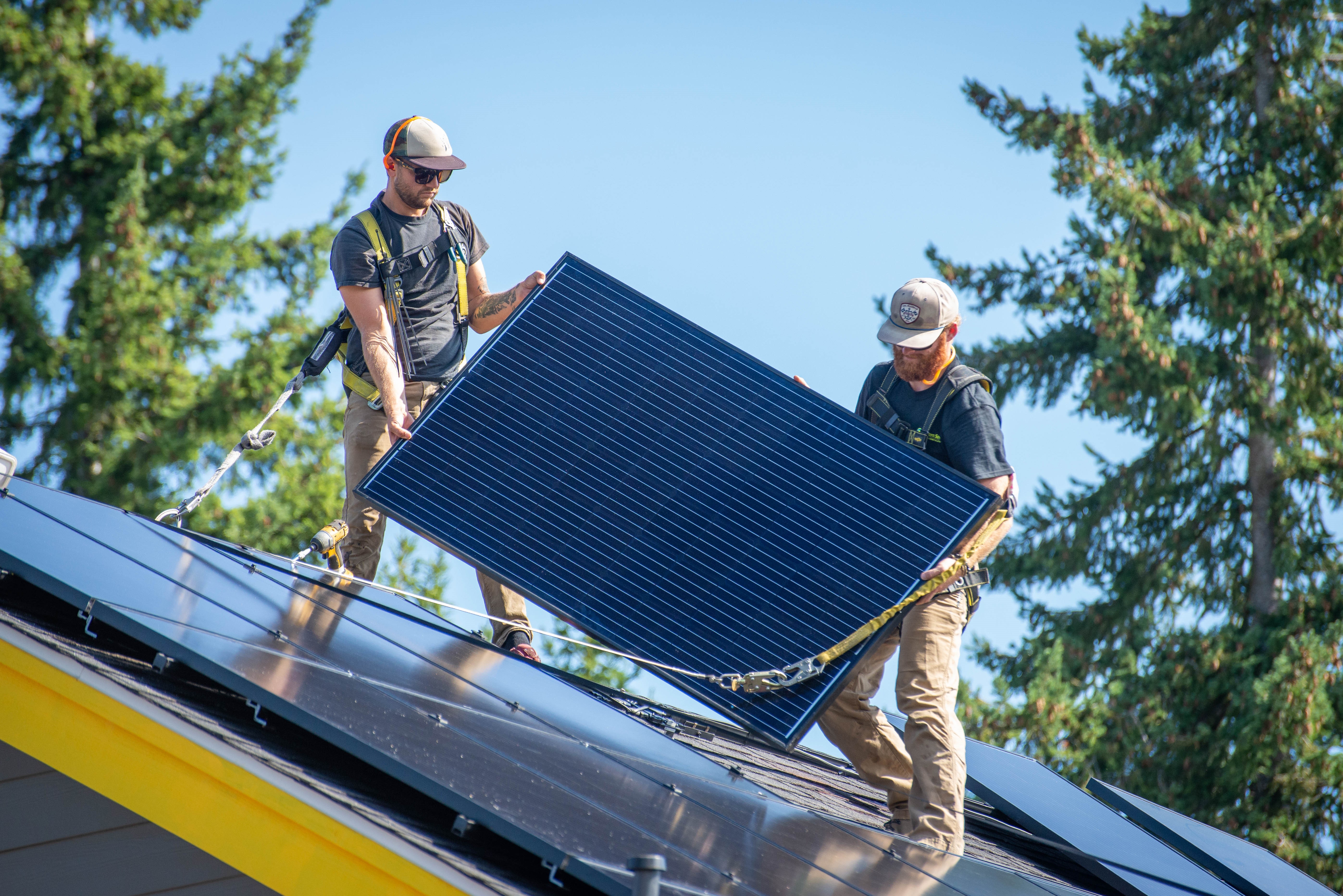 Photo of Panasonic panel courtesy of Western Solar.
How to choose the right panels
Solar panel color
Solar panels are typically either blue or black, depending on how they are made. The two main types used in home installations are monocrystalline and polycrystalline.
Monocrystalline panels
Most residential rooftop solar panels are monocrystalline and these are always black in color, says Vincent Curcie, Chief Executive Officer of Orange County Solar. They are the most efficient type of panel, which means fewer are needed to generate the same output, reducing the overall size of your system. They also have the longest lifespans with warranties of up to 25 years in some cases and aesthetically, they are characterized by a smooth, black appearance.
Polycrystalline panels
Polycrystalline panels are blue or dark blue and have a frosty-looking finish that is less subtle than monocrystalline panels. They're also less efficient, which means they tend to take up more roof space. That said, they are much cheaper and easier to install.
Solar panel frame
Solar panels from reputable manufacturers always come with a frame, says Curcie. Historically, these frames were often silver in color but now they are almost always black, he says. Given most solar panels are also black, these frames ensure the color of your system is uniform, to create a chic and subtle finish to the final solar installation.
Solar panel backing sheet
The backing sheet sits behind the individual solar panels and is usually black or white in color. This means homeowners can choose between black panels on a black backing sheet, or black panels on a white backing sheet. The choice you make not only depends on budget, but also on your design requirements and whether you want your system to make a statement or blend in.
Black-on-black tends to be the most popular choice, giving a smarter and more discreet finish. But it's also more expensive and the solar panels are slightly less efficient. The contrast of black-on-white means your installation will make more of a statement, but the panels are slightly cheaper and will operate more efficiently since the white background reflects more light (and heat).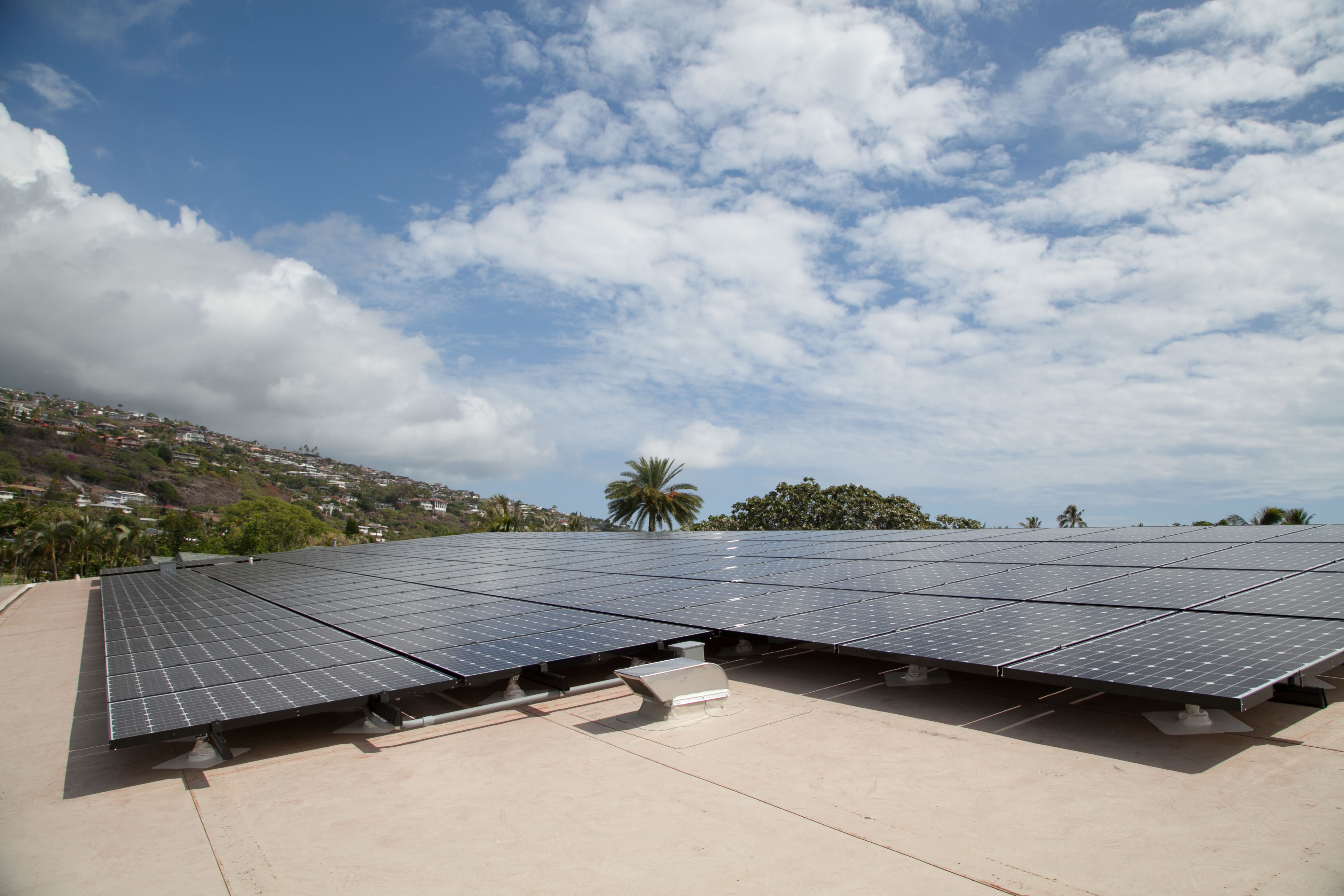 Photo of Panasonic solar installation courtesy of Alternate Energy.
Solar panel mounting system
There are two main ways that solar panels are mounted onto your roof and these are known as either on-roof or in-roof.
On-roof
Here the panels are installed directly onto your roof, using metal hooks and rafters. Vertical rails run across the hooks which the solar panels are clamped onto, which means the panels sit a few inches above the surface of your roof. This is the most cost-effective solution and it also ensures there is good ventilation for your panels, which will optimize their performance. However, it does mean your system will be visibly raised from the surface of your roof.
In-roof
Here the panels are mounted so that they show as being almost completely flush to your roof, creating a sleeker, more subtle look. However, there is less airflow around the panels, which means they don't always operate as efficiently as they could.
How to design a good looking system
In addition to the type of panels and mounting system you use, the final design of your system should consider panel positioning, orientation and roof coverage.
Most homeowners want their system to be symmetrical, says Curcie. This means laying out your panels so that they all run in the same direction, whether that's landscape or portrait, and that they align with other features on your roof, such as windows. This might require your installer to relocate roof items such as aerials, to enable a symmetrical installation.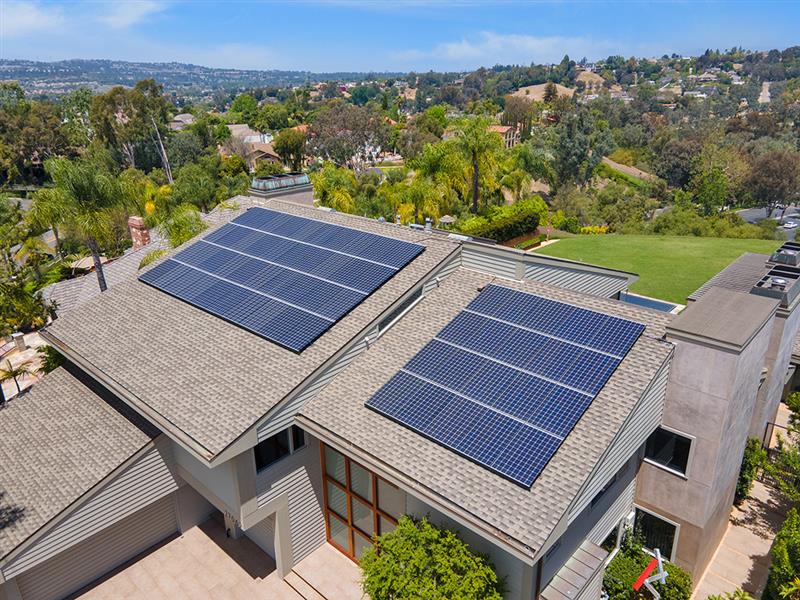 Photo of Panasonic solar installation courtesy of Orange County Solar.
In addition, you will need to consider roof coverage. If your panels are only covering a portion of your roof, work with your installer to ensure that they are positioned in proportion to the size of your property and its features, as you don't want to visually overload your roof. If your panels are covering all of your roof, make sure that they are installed neatly from edge-to-edge. And of course, it's important that your panels sit tightly side-by-side rather than having one panel in one place and others located elsewhere.
Many homeowners are also keen to disguise the electrical piping and wires of their system. This can sometimes involve extra work, so it's important to raise this in the design phase so that your installer can consider the best approach.
Finally, one consideration that can sometimes be overlooked is where electrical equipment is installed on the ground, says Curcie. This equipment includes your meter and a main service panel, as well as a battery if this is included in your system. These items can be installed in your back-yard, front-yard or garage. "Wherever possible, we try to install in the garage but many cities are making this increasingly difficult," Curcie explains.
Working closely with a reputable installer is crucial for ensuring that your panels not only look great and add value to your property, but that they are also positioned for optimal performance, delivering as much clean energy as possible to your home. When designed well, a rooftop solar system can transform your property, making it look 'newer, techy and modern,' says Curcie.
To find out more about how a sleek looking solar panel system can fit into the design aesthetic of your home, talk with an authorized Panasonic installer today and get your questions answered.