San Jose Latest California City to Ban Gas in New Homes to Help Cut GHGs
Another northern California town takes a leap in environmental responsibility, signaling further progress toward emissions-free living in the Golden State. The city of San Jose will no longer allow natural gas hook-ups in new construction homes, joining several other trailblazing California towns as the first such action in America.
San Jose has become the latest California city to ban natural gas hookups in new housing construction, in favor of electricity, marking a major milestone in the state's efforts to phase out gas from buildings to help lower greenhouse gas emissions (GHG) and reliance on fossil fuels.
"We can leverage our success in decarbonizing our electricity grid – and light the path to sustainability for thousands of other American cities – through electrification of our buildings, which emit one-third of our GHG emissions," said San Jose Mayor Sam Liccardo (D) in a Sept. 18 press release. San Jose's population is just over 1 million.
The San Jose City Council voted unanimously Sept. 17 to approve a proposal to require new construction of detached accessory dwelling units, and single-family, low-rise, and multi-family buildings in the city to be electric. City officials claim San Jose is the largest city in the nation to pass such an ordinance, which aims to ensure heating and cooking appliances are powered by electricity.
In July, Berkeley became the first city in the country to ban natural gas in new housing and small commercial buildings, starting in 2020. Six other California cities soon followed suit, including Santa Monica and Menlo Park. At least 50 other California cities, including Los Angeles, San Francisco and Sacramento, are considering similar plans, according to media reports.
The trend comes as California state agencies and environmental groups are pushing new policies to phase out natural gas use in favor of electricity, which is increasingly generated by renewable sources.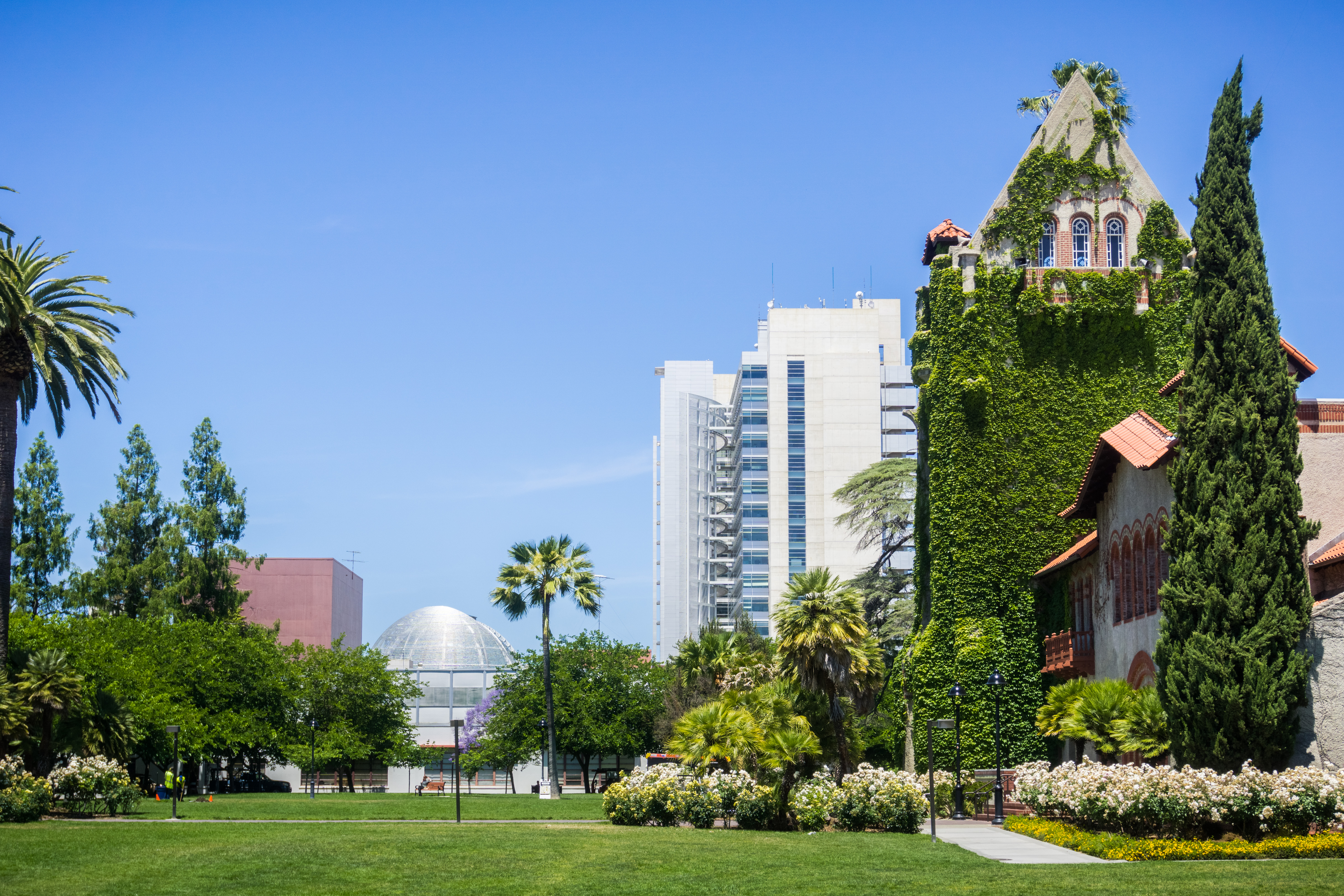 San Jose State University with the modern City Hall building in the background
Under California's renewable portfolio standard, 60 percent of the electricity supplied to state consumers must come from renewables by 2030. In addition, a 2018 California law requires 100 percent "carbon-free" power by 2045.
The electrification of buildings and vehicles is a major strategy in California's plan to achieve GHG targets of 40 percent below 1990 levels by 2030, and 80 percent by 2050.
The state's efforts to electrify buildings is also backed by the "Building Decarbonization Coalition," which describes itself as a group of "building industry stakeholders, energy providers, environmental organizations and local governments" advocating for "strong leadership" to help California cut GHGs from homes and buildings.
Members of the coalition include Rheem Manufacturing Co., which makes residential and commercial water heaters and boilers, as well as heating, ventilating and air conditioning equipment; Mitsubishi Electric, which makes air conditioning systems and an array of other electric building equipment; public utilities including the Sacramento Municipal Utility District and Los Angeles Department of Water & Power; a host of private power companies; and the Natural Resources Defense Council.
The coalition earlier this year released three reports – "California's Building Decarbonization Opportunity," "Rate Design for Building Electrification," and "Strategies and Approaches for Building Decarbonization" – ahead of a California Public Utilities Commission draft rule-making on lowering buildings' GHGs.
SoCalGas Opposition
On the other side of the issue is Southern California Gas Co. (SoCalGas), which has spearheaded a public relations campaign to persuade cities not to pass ordinances banning gas hookups in new buildings. SoCalGas created what critics call a front group for their efforts – Californians for Balanced Energy Solutions – that is trying to tout renewable natural gas as a preferable alternative to electricity, especially for customers who prefer gas-fired appliances.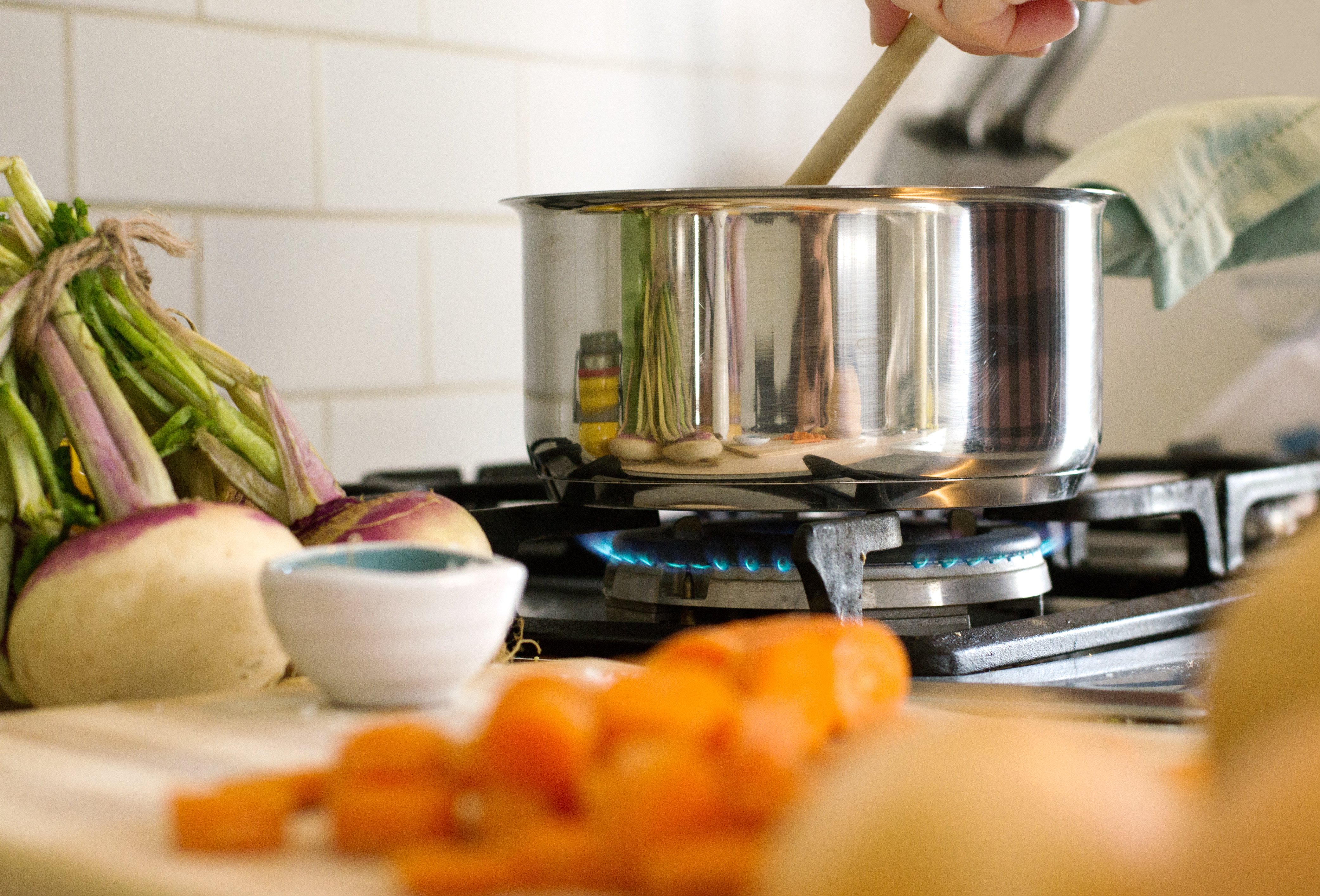 Several city mayors agreed with the SoCalGas message by penning opinions in opposition to state efforts to eliminate gas from homes, including Diamond Bar, Rosemead and West Covina, according to media reports. In addition, city councils in several other cities have adopted resolutions agreeing with the gas utility's message.
The California Building Industry Association and other development groups – such as the California Business Properties Association, California Apartment Association, California Association of Realtors and Commercial Real Estate Development Association – have also raised concerns about the state's move to phase out gas in buildings.
For example, those groups recently opposed a change to the cost-effectiveness provisions of a California Energy Commission subsidy program that makes it easier for building decarbonization projects to qualify for funds.
And Catherine Reheis-Boyd, president of the Western States Petroleum Association, recently sounded alarms over cities banning natural gas in new buildings.
"Can you imagine if every local municipality takes up this issue? It's death by a thousand cuts," she said during an Aug. 7 session of the LDC Gas Rockies and West Forum in Los Angeles, according to S&P Global. "We've heard a lot about the push against fossil fuel use in Colorado, but California is like Colorado on steroids. We are at a tipping point in California."
This article was written by Curt Barry from Inside EPA and was legally licensed through the NewsCred publisher network. Please direct all licensing questions to [email protected].